12 Ways Simple Supports Decentralised and Distributed Marketing Teams
The structure of marketing teams has undergone some big changes in recent years with the re-absorption of digital skills into marketing, the return of data to marketing — driven by rapid technologisation, and the increasing centralisation of marketing teams. But centralised marketing structures do not suit every organisation. Many national and multinational marketing organisations are decentralised, dispersed or distributed, often with a centralised global brand team and local marketing execution teams.

Some decentralised marketing teams are organised by product; others favour hub-and-spoke structures, where some marketing functions remain centralised in the 'hub' and others are duplicated in the 'spoke'.
So how can these distributed marketing teams — where people are located in different areas, in different cities or on different continents — work together for maximum effectiveness and efficiency?
Simple's Marketing Operations platform was designed to improve the way marketing teams work together and to make life easier for dispersed, decentralised and distributed teams in a number of ways:
1. Centralised calendar planning
When distributed marketing teams come to plan their activities for the period ahead, it helps to know what the other parts of the organisation might have planned. This ensures the relevant facilities — such as call centre support — are available when they are needed, and helps avoid the clashes and 'dead space' that result when inter-team marketing activity is not well-coordinated.
Simple's marketing calendar provides visibility for the entire marketing team into all planned activities. And if marketing activities change, the live plan in Simple is automatically updated.
2. Alignment
When teams are working from different locations, it's easy for their interpretation of the marketing organisation's overriding objectives to diverge. And when marketing objectives are often communicated — at best — once or twice a year via an executive presentation, it can be hard for the staff on the ground to keep them top-of-mind.
Simple allows teams to communicate marketing objectives by including them in every marketing initiative. In fact, teams can attribute any activity to a particular objective to ensure the team's overall activity delivers against the goals it is required to meet. For instance, if a certain percentage of budget is required to be spent on digital media as a means of delivering a particular e-commerce sales target, that can be tracked in Simple as each activity is entered into the platform.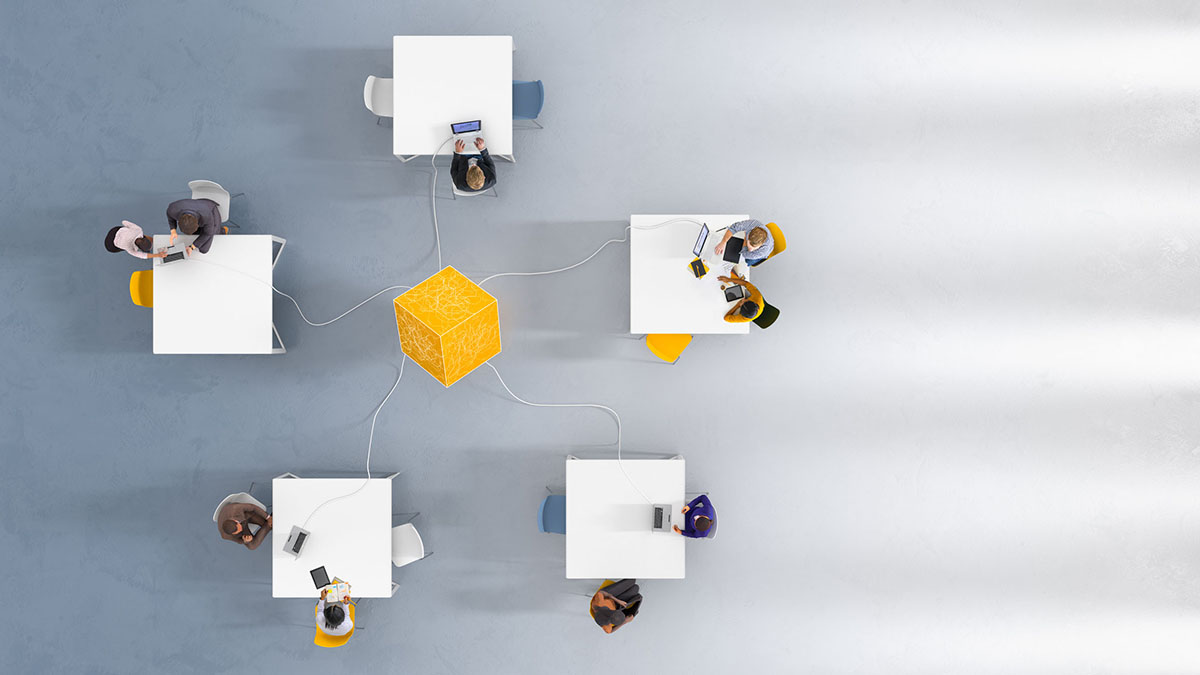 3. Marketing request triage
How much of your team's time is taken up with mumbled or otherwise poorly communicated ad hoc requests to marketing? For some teams, it's as much as 80%! That's why it's crucial for marketers to have a record of requests to marketing and triage them to ensure the distributed team is always working on the most important work.
Simple offers a workflow view of requests as part of its centralised marketing resource management platform that allows them to be ranked and prioritised using simple drag-and-drop functionality. It also provides visibility to marketing stakeholders by enabling them to see when their request is being actioned and track its progress through the system.


4. Better briefing
How often does your centralised marketing team receive a request for work from other business units that is incomplete, poorly briefed or comprises little more than a couple of lines in an email? And how long does the ensuing to-and-fro (to get the rest of the details you need) take?
In Simple, briefs can be built out to include all the fields you need, tailored for your business, so you're always getting the complete picture the first time around. Instructions in Simple can help stakeholders complete briefs correctly, saving your team countless hours.
Download the e-book: How to Write the Perfect Brief
5. Accessible guidelines
Having one centralised platform to do marketing work across distributed teams means one place where everyone can go to access essential marketing information, including approver matrices that are built into Simple, style guides and brand guidelines that can be accessed via Simple and even legal documentation that is accessed via the marketing resource management platform.
In industries where there are complicated regulatory requirements, the latest disclaimers or terms and conditions can be updated and applied Simple, minimising the chance of people appending incorrect or outdated information.


6. Visibility into marketing activity
How does the broader organisation get visibility into what marketing is up to? Usually the marketing team manually creates a slide presentation with the highlights pulled out for all to see. Typically that requires team members to email or message people to check in and find out where their projects are at. It can take hours to pull together, or even days, particularly if team members are communicating across time zones.
With Simple, completed, in-progress and planned work is instantly visible, along with the current status of each project. Creative assets, which are stored in Simple's digital asset manager, can be accessed and displayed from the system. Near real-time results data is also available from Simple's analytics platform, removing hours of work and allowing the business as well as the CMO and the marketing team much greater visibility into marketing.
7. Standard operating procedures for marketing
When new team members join marketing, particularly if they are in geographically dispersed locations, it's important they know how to get things done. Generally that means who needs to review and approve marketing work, who needs to sign off on it, and how the work and those amendments must be captured and stored. If standard operating procedures haven't been established or documented, that opens the door for procedural breaches as most people default to 'this is how we did it the last place I worked'.
All marketing processes are captured and documented in Simple, making it easy and intuitive for new team members to follow standard operating procedure regardless of where they are located — and irrespective of who's around to advise them — including timelines, approvers and compliance requirements. And approvers can see what's required of them in terms of reviewing and approving work in the required timeframe, regardless of time zone or geography.
Read next: Case study - Setting SOPs for marketing and creative workflow in Simple
8. Best-practice templates

How is best practice captured and enshrined in your marketing organisation? In many teams, it's a haphazard process; often the organisation relies on its more experienced team members to remember and repeat its most effective processes. Less than half of all marketing teams have even documented their marketing processes, let alone optimised and fine-tuned them to capture best practice.
In Simple, best-practice processes can be copied and cloned at the click of a button. Templates capturing your most effective processes can be created and rolled out to different teams anywhere in your organisation with ease. These can easily be populated with different manager and approver details while following your brand governance processes.
9. Built-in marketing risk and compliance
There's little question the marketing industry globally is staring down the barrel of greater regulation. Whether it's over the privacy concerns raised by how internet giants are using personal data, or the way marketing misrepresentations have brought brand teams to the notice of corporate and consumer watchdogs — it's never been more important for marketing teams to be vigilant about meeting marketing risk and compliance hurdles. That means approvals can't sit in the personal email inbox of someone located in another office, unbeknownst to everyone else. And all versions must be captured and stored.
Running your approvals through Simple's centralised marketing resource management system creates an automatic audit trail that not only involves your legal, risk and compliance approvers as per your documented workflows, it captures feedback and amendments and stores all versions — demonstrating when due process has been followed, and proving your intent to comply.
Download your free checklist: 10 steps to mastering marketing compliance
Read next: De-risk your marketing risk and compliance process with Simple
10. A consistent brand experience
Do you know what your dispersed marketing team is sending out by way of local area marketing? How do you know it meets your brand guidelines? It's one thing to capture and disseminate those guidelines — it's another to be able to check that they're being followed.
Simple's MRM platform not only stores and provides centralised access to your up-to-date brand guidelines, it stores all approved work in the digital asset manager — so you can get a view of the brand experience your distributed marketing team is creating, and ensure it is consistent across offices, teams and territories.
Read next: Brand consistency issues hinder marketers ability to tackle customer experience
11. Use and re-use of approved assets
If your marketing team in one territory has created a brilliant campaign, how do you share access to the same materials so they can be adapted for use in your other markets? In a distributed team, it's too easy to forget to communicate and distribute your most effective assets, with the result that teams end up duplicating work without even realising.
Simple's centralised digital asset manager ensures your dispersed marketing team can access all the approved marketing materials they need, as well as see what the broader team has been up to. Then it's a simple, efficient matter to access the working files to edit and re-use that material, keeping creative costs down and maximising efficiency and effectiveness.
12. Near real-time marketing analytics
Who owns the reporting tools in your marketing team? With many enterprise marketing teams using upwards of 90 marketing tools and apps, across offices and geographies, it can be hard to know where to go to get the information you need to know how well your campaign is working — much less get it in a timely fashion. So often, reviews are conducted when it's too late to fine-tune your campaign — and even then you're showered with irrelevant data.
In Simple, teams can select up-front the key marketing metrics they need to track, and create live dashboards with the data-displaying dexterity of Microsoft's Azure intelligent cloud and Power BI technology. Integrations with the hundreds of tools that are already integrated with Microsoft's technology can be facilitated with ease, giving marketing teams the marketing data they need at their fingertips, and in their planning tool — closing the loop and enabling better informed future planning.
When teams are co-located, there's no doubt it makes life easier; but not all organisational structures support centralised or centrally located marketing teams. Simple's marketing resource management platform takes the pain out of the way decentralised, distributed or dispersed marketing teams work together.
From planning and review to optimisation, Simple's Marketing Operations Cloud helps marketers drive productivity, revenue and growth whatever their marketing team structure. To find out how reach out to one of our representatives.