3 Things I Hate About Marketing
How much time does your marketing team spend doing marketing? If half your time is wasted planning campaigns in spreadsheets, briefing and amending creative via convoluted email trails, or creating slide presentations that justify what marketing actually does all day, this report is for you.
We've identified 3 of the things that make modern marketing a grind — and the quick fixes that will free you from the tyranny of collaboration Chaos or Prioritisation Ping-Pong and put the fun and creativity back into your working life.
Just eliminating the hours spent creating and updating spreadsheet calendars, sitting through unproductive meetings or looking for lost files on email would give most marketers an extra day a week.
So if that's something you could do with, read on.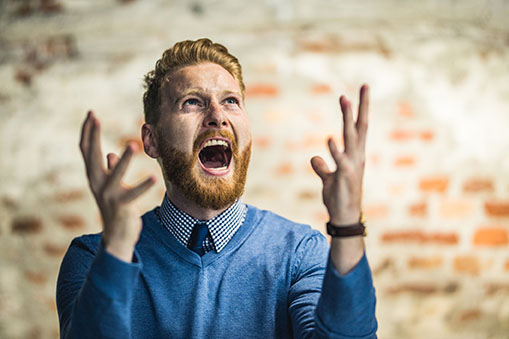 1. Planning

P

urgatory
"When you spend half your life in spreadsheets"
Ever thought of a career in Excel? If you're a data analyst, maybe so — but probably not if you were attracted to marketing by the thought of turning out creative brand campaigns.
But if you're a marketing planner, chances are you spend a lot of your time creating, updating and modifying spreadsheet-based marketing plans — which are still the default marketing calendar for many marketing teams.
In big, security-conscious enterprise marketing teams, these are often centralised but not stored in the cloud, making version control and getting access to make changes a major problem.
Not only that, but it's so easy to misread a line and make a mistake. It requires time and meticulous attention to detail to avoid those random errors that can leave your television commercial on-air without call-centre support — "It wasn't on the plan so the call centre wasn't notified" — or your key target audience neglected at a critical time of year due to a coordination issue — "We didn't sync our
marketing plan with product's marketing plan."


How To Fix It – Modernise Your Marketing Calendar
Get your marketing calendar out of Excel or Google Sheets and into a secure, cloud based, centralised calendar designed for that purpose: to enable marketing teams to plan and track their work.

Choose one that:

Enables you to monitor your spend so you can keep track of your budget

Offers drag-and-drop functionality to make amendments simple

Provides different team members with different views.
Remember… The CMO needs to know what's in market, what's working best and what's coming next, but the marketing planner will always need more granular detail.
2. Brief Encounters
"When your briefs are letting you down"
We've all done it: run out of time to write a proper marketing brief, so we've dashed off a quick email to the designer and hoped for the best. At least half the time, the creative treatment you get back is not what you were hoping for, launching you into a round of re-briefing with all the associated resource and time costs.
How many of us have had to spend hours rewriting briefs from external stakeholders? It's bad enough when poorly briefed work ties up the resources of your in-house design studio. But when there's an external creative agency involved, as many as 30% of your agency costs can be attributed to the fallout from bad briefing.
"It is often a huge challenge for marketing teams to get briefing right. Too often we don't have clarity of purpose. Sometimes programs get going without a clear value proposition. They don't hit the target because not enough thought went into the 'why',' says Mitchell Mackay, CMO, Ansell.
That 30-page brief you spent 2 days compiling? Sometimes it's just easier to phone it in and let the agency write the brief. But in the end, it's not your agency that absorbs the cost of badly briefed or mis-aligned work: it's your brand.
And even when your marketing team has aced brief-writing, your briefing process and your briefing software probably still sucks. By that I mean you waste hours re-entering the same data over and over again in different briefs with no hope of re-using that information.
How To Fix It – Put The Creative Back Into Your Creative Briefs
Train your team in brief writing. Sadly, it's becoming a lost skill.

Look for ways to centralise and synchronise your briefs so you can store and reuse critical information.

Ideally, choose flexible briefing software with customisable templates that can accommodate both quick requests and complex campaign briefs with multiple moving parts.
Remember… The more you can take the grunt work out of brief-writing, the more creative juice you'll have left in your tank when it comes to honing the single-minded proposition or finding the insight that will truly motivate your target audience to buy — after all, this is what marketing is all about.
3. Prioritisation Ping-Pong
"How can I prioritise effectively without knowing what everyone is working on?"
How often have you come into work determined to complete work on your big seasonal launch campaign only to spend the day shepherding requests for 'urgent', last-minute marketing jobs from elsewhere in the business through the in house agency?
It's not uncommon for marketing teams to spend between 40% and 80% of their time on ad-hoc requests — many of which are never logged, poorly briefed and off-strategy. But if these "invisible" requests are not tracked, it's impossible for your team to assess, prioritise and manage them alongside their important, strategic work.
Without that marketing visibility, not only is it hard to ensure your team is always working on the most important work, it's impossible to show the value that marketing is delivering to the business.
And for your creative studio or digital team, just allocating work, estimating capacity and ensuring projects are handed over efficiently from one team member to another is a nightmare. If there's no single source of truth for tracking and completing marketing work you can plan to spend at least a few hours a week tracking down emails and looking through drives for the latest version of your projects.
"There are walk-ups everyday. Those requests come from throughout the business. It's difficult to prioritise because it's not planned. But it's mandatory. The real problem is when multiple projects land that have to take priority,' says Glen Flower, General Manager of Marketing from Telstra Wholesale.


How To Fix It – Triage Your Marketing Requests
Implement a 'triage' platform for managing marketing requests that enables the leadership team to prioritise the most urgent and important work and ensure it is aligned to business goals.

Whatever marketing operations platform you choose for your triage, ensure it has:

A centralised request logging system that enables marketing to capture, manage and prioritise requests

Briefing templates that ensure marketing requests are well thought-out and aligned to business objectives

A markup tool that captures all feedback and requested changes and makes them visible to all.
Remember… A centralised approvals system will enable stakeholders to follow the progress of jobs.
Simple's Marketing Operations Cloud helps marketing teams streamline their marketing efforts and do more for less. If you're interested in knowing more then reach out to a member of our team.