Management stay on top of projects and remote teams with admation.
Managing multiple teams or heading up an agency or marketing department is a complex task. Being responsible for a number of staff, managing budgets, and overseeing the overall quality of work is no easy feat. One of the greatest challenges of these roles is project transparency. Knowing exactly where projects are at and what resources are available at any point in time is a key factor to success for agency management.
Pre COVID-19, a typical day for a department or agency manager involved many (some times too many) face-to-face meetings with internal teams, stakeholders and clients. It was here management were able to stay on top of projects, receive status updates, assign tasks, troubleshoot roadblocks and set priorities. These face-to-face meetings were often the easiest way to know whether teams are performing to target and whether projects can and will be delivered on time.
As the world shifted to working remotely, the roles of management got a whole lot more challenging. Sure, some of these meetings were replaced with video hook ups, chats and phone calls but they do not replace those spontaneous updates over the coffee machine or incidental conversations in the hallway. So how can management stay on top of projects and their remote teams.
How can project management software help ad agency and department managers?
Implementing project management software for creative agencies is one commendable way to manage projects more effectively. Online agency project management tools like time tracking, job statuses and revision counters take the guesswork out of measuring team progress. And without getting tied down amongst the nitty-gritty details of a project, ad agency managers can see at a glance, and first-hand how teams are tracking with their work.
Using admation?s project management software for agencies is one way to help deliver projects on time and on budget. The key value in implementing project management software for agency management is around the high-level visibility that?s provided by the system.
Here are 5 key ways admation can assist your agency?s management team.
1. Access projects from anywhere and any time
Admation provides access to your team?s open projects on the go. By storing all projects, documents and other files in one central online hub, Management and Department Heads can get an overview of all active jobs from anywhere at any time.
Eliminate vague employee nods and ?uh-huhs? from behind computer screens when asking whether or not work is on track. Find all summary information on projects in progress, including their approval statuses, WIP notes and phases, at the click of a button.
2. Revision Reports
With admation, you can see output that your team is running through the system first hand. Schedule daily or weekly revision reports that provide a full overview of all creative artwork for projects, and their current revision count.
As a result, issues that may otherwise have slipped under the radar are identified sooner rather than later. Knowledge is power!
3. Approvals Dashboard
Quick status updates show just how much work in a given project is approved by its stakeholders (or not). The admation project approvals dashboard uses a traffic light system so that you can quickly ascertain what work needs to be done, where changes need to be made, and where you may need to intervene.
4. Managing Resources
Identify and iron out resourcing bottlenecks with admation?s agency resource management tool. Full task allocation and project time tracking tools illuminate any resource capacity risks for tasks spread across your agency.
Any resource management or time-tracking tools that your agency uses should provide a full picture of which clients are taking up the most of your time. That?s why in admation, any project tasks are colour coded per-client, so that you can anticipate which clients are taking up the most resources and plan for other upcoming projects accordingly.
A resourcing metrics dash allows you to ascertain at a glance which departments are operating at capacity. The metrics board also includes visibility on annual leave and away-days to provide unprecedented transparency and management of your team?s capacity to complete scheduled tasks.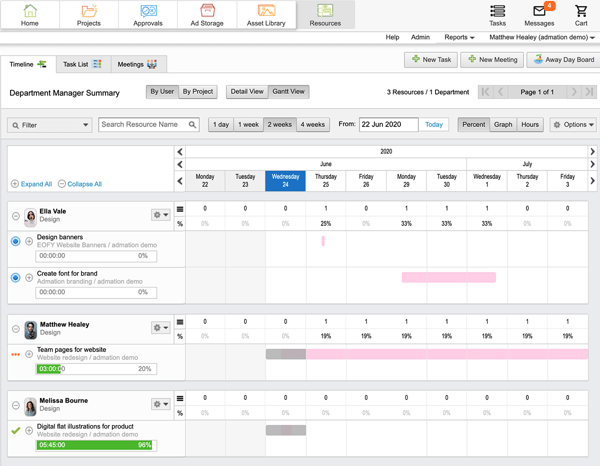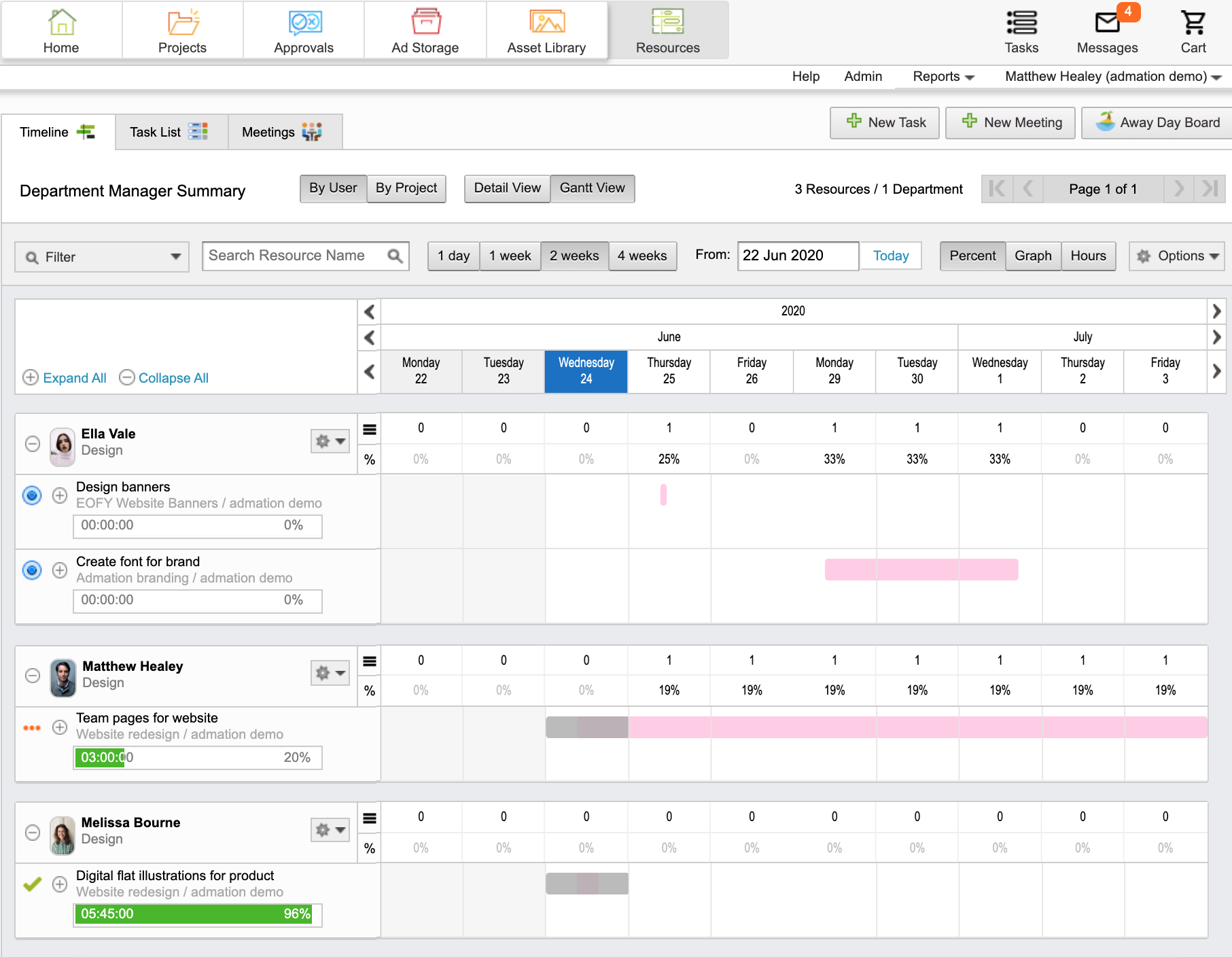 5. Recent Activity Feed
The admation recent activity feed chronologically displays all work that?s been recently sent for approval, or had changes requested. Configure your account to keep track of all approvals run through admation, and you?ll never miss an update again!
By using each of these high-level features, ad agency managers will remain informed of all work in progress. And that?s just one of the ways that we?re making work easier for advertising agencies. If you would like to learn more about how admation can benefit other stakeholders in your team schedule a remote demo.