5 Reasons to Consider Creating An In-house Agency Now
You might remember the controversial Pepsi ad featuring Kendall Jenner that was pulled by the soft drink maker shortly after it first went to air in 2017, effectively for trivialising serious social problems by positioning Pepsi as the solution. The ad caused an immediate and intense global backlash for Pepsi along with marketers, researchers and Jenner herself. And as it was created by Pepsi's in-house agency Creators League studio, in-house creative agencies also copped a battering as a result. Fast-forward 18 months and the impact this controversy has had on in-house agencies is apparent: absolutely none.
In fact, Research from the Association of National Advertisers in the US in 2018 showed more marketing teams have in-house agencies than ever before — 78% of respondents — up from 58% in 2013 when the ANA last measured it.
In 2021, Australia is catching up with the US with 67% of marketers working with an in-house agency, and another 14% are considering in-housing.
The numbers reflect some structural changes in marketing: modern marketing teams must be able to 'create' and 'do' more — rather than simply planning and commissioning work from external suppliers — in order to 'feed' more and more channels. The nature of marketing activity has shifted from being 'campaign-based' to more of an always-on model, requiring the constant output that supports the cost of those internal resources.
According to the ANA, the sphere of influence of in-house agencies goes way beyond the 'low-hanging fruit' of marketing collateral and internal videos. In-house agencies are being used to handle brand marketing, content, social and digital marketing, programmatic media buying and data management, to name a few.
Over the years, big brand advertisers who have bolstered their in-house agency capabilities have included Ford, Target, Spotify, Chobani and big-spending brands have included Foxtel and Commonwealth Bank while others are following suit. In fact, the pandemic actually accelerated the trend as more and more brands went in search of agility and flexibility.
Barclaycard in the UK, now "begins all marketing conversations by examining what can be executed in-house, rather than through using external agencies", according to its marketing director Alex Naylor. It's not alone, with companies such as pay-TV operator Sky, Lego and Spotify, among many others, having also set up or beefed up their internal creative, digital, media or data capabilities.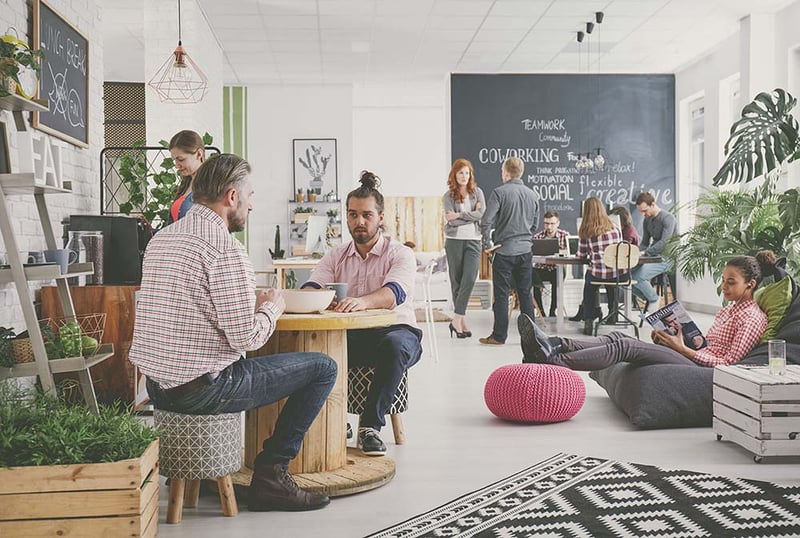 So why are marketers taking so much work in-house, and why is now the time to consider it (if you haven't already done so)?
1. Agility
There is no substitute for in-house resources when it comes to having an idea and executing on it quickly. Or getting some data from your latest campaign, altering the creative, and capitalising on your most effective execution quickly — without the back-and-forth delays that working with an external agency often entail.
Australian gaming and entertainment brand Sportsbet prides itself on being able to respond quickly to live events, such as a horse being scratched from a race, while maintaining a rapid flow of work: as many as 400 jobs go through Sportsbet's in-house studio in a month.
"We do 80% of our work in-house," head of design Scott Walker told Simple. "Working at pace and being agile is one of our strengths. We don't ever want to lose that."

Read the case study: Setting SOPs for Marketing and Creative Workflow in Simple

Travel agent Flight Centre handles everything but media buying through its internal agency, according to head of creative, content and digital marketing, Luke Wheatley. Digital media is purchased in-house as it runs many "tactical campaigns" with tourism bodies and airlines which Wheatley says may need to be out with a 45-minute turnaround, based on another provider quickly dropping prices. With such a quick reaction time needed, Wheatley says it would be "impossible" for an external media agency to work in such an agile way.
Spotify's internal agency is perhaps the epitomisation of agile creative resources, riffing off the cultural vernacular with its RapCaviar exhibition and concert tours supporting musicians in response to the actions of President Donald Trump.
"We're sitting at this epicentre alongside artists, so you have to be fluid and nuanced and move at the speed of culture," says vice-president of brand and creative Jackie Jantos (formerly global creative director at Coca-Cola).


2. Cost
Agencies are expensive, and if you're paying a retainer you may not always be confident of what you're getting for that outlay.
Properly managed, in-house agencies can save you up to one-third of the cost of contracting an external agency.
But be careful: one of the pitfalls is that the costs are often only tracked and benchmarked against external agency costs in the first year — leaving the in-house agency open to claims that it is a cost-centre rather than a cost-efficiency measure in future years. In-house agencies must demonstrate value, just as external agencies do.
According to Ed Smith, the former CMO of Australian pay-TV brand Foxtel (now general manager, integrated marketing at Amazon UK), there were three main objectives when Foxtel set up its in-house agency Felix:
To reduce production costs for Foxtel's main campaigns.

To speed up and lower cost of fast-turnaround social campaigns

To leverage Foxtel's existing expertise in using TV content from making TV and film promos.



"Foxtel ran an almost always-on acquisition marketing program, most weeks investing more than $1 million in media, with major campaign creative being switched out every 6 to 8 weeks," Smith said. "Our agency partners were greatly valued for their creative ideas, but we found that the total cost of production over a year wasn't efficient.
Smith says the savings that could then be reinvested were significant: "We expected production efficiencies in the order of 20% to 30% once set-up costs were covered," he says.
Read the blog: The 10 Hidden Costs of Poor Marketing Process
3. Speed and volume
Digital marketing, social media channels and content marketing — to name a few — are part of the explosion in always-on marketing requiring a more rapid turnaround of always-on creative work that internal agencies are perfectly suited to create without the overheads of paying external suppliers.


US advertiser Clorox, which has an internal agency called Electro, has experienced the need "for a lot of content a lot faster," according to chief marketing officer Eric Reynolds.


And Barclaycard UK, which found it had become "a digital business", also found greater demands upon it for a ramped-up production model, according to Naylor.
Read Next: 9 Ways to Reduce Your Workload
4. Alignment
Institutional knowledge was named as one of the key reasons in-house agencies were on the increase, according to the ANA study. Better brand alignment and an integrated approach to servicing the whole company are other key factors.
Lego has built an in-house agency over the past 4 years, whose remit includes creative, media and data analytics. According to global CMO Julia Goldin, "The [in-house team] provides… complete integration – same goals, same agenda, the ability to solve problems very quickly, much greater learning across the organisation."
The in-house agency is also empowered to have more of an impact across the business rather than simply being judged on an ad campaign: it has the same KPIs as the rest of the business, meaning it is judged on the number of children Lego reaches, productivity, development of talent, and working to Lego's strategy.
Flight Centre's Luke Wheatley echoes those sentiments: "We have teams who are aligned to our brand and our KPIs are the same as marketing and the same as operations. If one of our team members has a good idea, it's not to win an award and it's not to get more money – it's actually for the best thing for the business, so we control it all."
Simon Buglione, from Sky's in-house creative agency, argues that his team's ability to "live the brand" is a more important consideration than factors such as cost.
At Foxtel, the marketing team believed its internal agency was better able to understand, reflect and promote the hundreds of program brands across its channels than external agencies.


5. Control
There's no doubt there has been an erosion of marketer trust in agencies that has found voice in calls for greater transparency over issues such as ad viewability tracking, volume-based media buying discounts and the real cost of programmatic advertising.


A growing number of advertisers have responded to the call from Procter & Gamble's chief brand officer Marc Pritchard to "take back control" by establishing in-house programmatic and digital marketing operations. There have been "too many touchpoints" between P&G and its consumers," Pritchard told the Financial Times. "We are going to take more control of our media planning, data and analytics."


This trend is also being seen in an increasing number of agencies globally establishing in-house agencies, particularly to handle programmatic advertising and data management, often staffed with external agency partner personnel.


News UK operates in-house agency, Pulse, in collaboration with The & Partnership and agency network Wunderman. The Times chief marketing officer Catherine Newman says in today's "uncertain times", the company had wanted "greater control" over how it communicates with consumers.
But she says cultural fit is crucial to making hybrid in-house models work: "It's like asking someone to come and live in your house for a long time – it's a big commitment."
There's never been a better time to establish an in-house agency. The cost, efficiency and alignment upsides can be significant. But there are also lots of ways to get it wrong and marketers who establish an in-house agency must go into it with their eyes open to the challenges it will present.
Download next: How to Write the Perfect Brief Guide
Simple's Marketing Operations Cloud helps enterprise marketing teams and in-house agencies manage work to create profitable customer experiences that drive growth. To find out how contact a member of our team.