Admation features helping remote teams manage marketing projects
None of us could have foreseen the circumstances that forced many businesses to transition to remote work overnight. To be honest, if it weren?t for the cloud-based tools we were already using, we might have struggled to switch to a remote-based business. We?re hearing much the same from our clients, many of whom are really seeing the benefits of our admationproject management software now that their teams are scattered throughout individual home offices.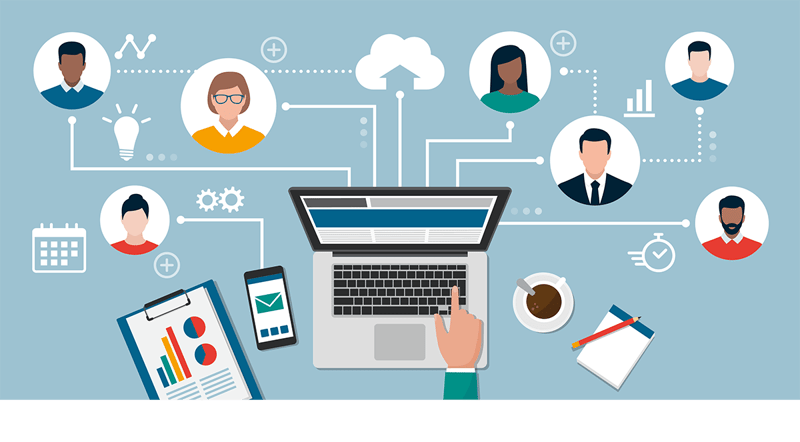 Maintaining cohesion through clear lines of communications is of the utmost importance during these difficult times. And the tools you?re using could make all the difference. We?d like to provide you with an overview of the admation features that are particularly beneficial for managing projects and approvals remotely.
After you?ve read through the features, we?re happy to give you a preview of admation. You simply need to book a remote demo. If you decide you?re interested in implementing admation, we can have you up and running in just two weeks.
Admation features that support marketing processes and tasks while working remotely:
1. Briefing creative projects
In the office, you might typically receive a physical job bag which includes a hardcopy project brief. If this has been the case, then your process has suddenly been thrown into disarray because you can no longer access briefs this way. Perhaps a brief is now being emailed to you, but there?s no standard form so information is contained in a blurb of text which means that some details are getting missed.


Admation feature: Online Briefs
With admation's Online Briefs, any nominated user can log in remotely and create a brief. Our digital briefing templates can also be used to eliminate repetitive work by customising briefs for different types of campaigns. Admation brief forms have mandatory fields to ensure that all the right information is captured so that you don?t have to go hunting for information - an even more difficult task working in isolation! An automatic email notification is sent to the recipient managing briefs outlining that a project needs to be actioned.
2. Meeting deadlines for reviewing and completing work
You and your marketing team might still be developing a new routine to manage your marketing projects, and consequently are struggling to stay on top of work. Still you need to keep hitting those deadlines, but you don?t have the tools that give you the transparency to stay on track with approvals and tasks.


Admation feature: Set deadlines and reminders
In admation, you can set up project and approval deadlines which are visible to all stakeholders to ensure that everyone delivers their feedback and approvals on time. You can even set up automated reminders in the system so that admation prompts stakeholders to provide approval in a timely manner.
3. Maintaining a dedicated approval workflow process
Perhaps your marketing team was previously working with an informal approval workflow process in the office. This would have given you some leg room to call a meeting if work stalled or possibly nudge someone for an approval in the lunch room or while walking past their desk. It?s far more difficult to bring all the usual touchpoints of an approval process together while working remotely even if you are using email approvals (which tend to be long-winded and confusing at the best of times).


Admation feature: Approval pathways
Admation enables you to automate a unique approval process to suit your organisation?s structure. This means that once a deliverable has been completed, you can route the approval through a dedicated pathway to ensure all stakeholders are prompted for feedback. You can also customise your approval pathways to suit a range of different campaigns if required.

Admation feature: Approval Checklists
With everything so hectic at the moment, you probably don?t have a spare moment to keep checking whether stakeholders are providing the right feedback. Admation shortcuts the work by enabling you to create a list of items (approval checklist) that stakeholders need to tick off before they send their feedback or approval.

Admation feature: Reserve approvals
Legal can reserve an approval to ensure that the work doesn?t get doubled-up on or missed in the approval process which could lead to a compliance issue.
4. Collating & managing feedback for approvals


Collating and managing feedback on marketing projects can be challenging at the best of times, but now you need visibility more than ever before. A system that provides transparency over feedback is going to maintain a clear path of communication throughout your projects and eliminate high artwork revisions.


Admation feature: Transparent feedback system
As stakeholders provide feedback, it can be viewed by all approved users which means that any conflicting changes can be picked up before anything gets sent to the creative team. Reviewers can tag users in comments to spark conversations to ensure everyone?s on the same page. Feedback can be provided on all types of files such as copy, artwork, videos, html and landing pages.

Admation feature: Revision management
Instead of relying on file sharing platforms to send artwork, admation has the capacity to save large files within its system which means that reviewers, once prompted, only need to log into admation to review the artwork.

Admation feature: Online proofing tools
In the office, you might have received handwritten markups that were scanned and emailed back to you. In a makeshift home office, it?s unlikely that everyone has a scanner to do this. Admation has inbuilt proofing tools that allow reviewers to mark up any file type with visible markings and text comments so that feedback is clear and concise.

Admation feature: Batched Feedback
It?s tricky collating feedback from long email trails (if this used to be your process), but you might find this even more frustrating in your current circumstances. Once all feedback has been received in admation, you can simply batch the feedback and send a summary report on to your designer or copywriter.
5. Managing resources



In an office, it?s easier to plan or swap resources when you have face to face contact with staff. With your whole team working remotely now, it?s difficult to know what they?re working on at any one time and how tasks are progressing. Even if you?re still using spreadsheets to schedule tasks and resources, you have to save a new version every time you update it and send it to your team. No one has access to a live resource dashboard so everyone is working in the dark.




Admation feature: Department dashboard
From your home office, you can view exactly who is working on what. Each team member can also log in to see what work is allocated to them so that they can plan their day and week more effectively.

Admation feature: Task & resource allocation tools
Dispense with spreadsheets altogether, a tool which doesn?t give you the kind of visibility you need right now over planning remote resources. Admation has tools that enable you to allocate tasks to resources in a few easy steps. Once a task has been allocated, the resource receives an automatic prompt as well as the task gets added to their ongoing workload.

Admation feature: Task Lists
No phone calls or email follow ups are required to get each resource to provide a progress report on tasks. You can now view a comprehensive task list to see how work is progressing on a day to day basis.

6. Sharing assets


No one needs extra work to do or the hassle of using file sharing platforms to share assets between stakeholders and creative teams.


Admation feature: DAM
Admation has an inbuilt digital asset management (DAM) feature that enables remote users to simply log in and share assets. You can also have permission restrictions on assets to ensure that only the right people are accessing them. Assets can easily be shared to other team members in just a few clicks. You also have access to a download history to keep a check on who is accessing what marketing assets and when.

7. Reporting


Right now, it?s difficult for management to qualify what staff are working on and account for output without any transparency over the progress of work.


Admation feature: Inbuilt reporting tools
Admation provides reporting tools at your fingertips that provide visibility over all your project deliverables. Admation can provide a customised report that shows you how many projects you have per department and the number of deliverables. It also gives you the number of revision on artwork and averages this across the board. This report not only provides unprecedented visibility for management, but it can also improve staff morale by demonstrating how much work they?re completing in isolation. You can decide how often you want to receive the report to give management a better overview of how projects are progressing.