Admation makes SoftwareWorld?s top 10 list for best advertising agency software
We were thrilled to hear the news that admation made SoftwareWorld?s top 10 for being the best advertising agency software in 2020.
SoftwareWorld is a software review site that evaluates best industry solutions for the marketplace. The platform understands the importance of having the right tools and prides itself on providing unbiased lists of the best software by category to make it easier for buyers to find a good fit.
?Advertising software is a dire necessity for advertising agency all over the world. But agencies find it difficult to get hold of the best advertising agency software.? SoftwareWorld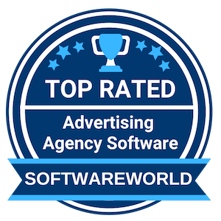 SoftwareWorld rates the software by a number of features which include how secure, c
ost-effective, user-friendly and easy to implement the software is.
Admaton rates 97/100 for its ad agency and marketing project management software

SoftwareWorld gave admation a rating of 97/100, which makes us feel vindicated that our software is providing the right tools for creative teams.
Our software combines a range of features that enables users to manage their projects from briefing through to storing final artwork. Some of its key features include: project management, approval workflow, resource management and digital asset management (DAM).
Recommended reading: A guide to understanding project management software for ad agencies
Benefits of admation for ad agencies
More transparency over projects and approvals
Customised and automated workflows
Better collaboration
Less errors and artwork revisions
Reduced administration
Speedier approvals
Improved quality of output
Marketing compliance
Greater operational efficiencies
Cost-savings across the board
?You can focus on productivity and talk about the ideas and the creative ? rather than filing.? Jo Giles, Director, Delivery & Operations, Edge Agency.
Check out our listing on SoftwareWorld. If you?re interested in a free trial to see how admation works, book a demo today.