From Brief to Amplification: 7 Tips for Building Buy-In For Marketing
From Brief to Amplification: 7 Tips for Building Buy-In For Marketing
Ansell's chief marketing officer Mitchell Mackey has a saying about marketing: "If we just executed on the basics well, we'd be way ahead." In line with this philosophy of keeping the marketing organisation's foundations strong, and with marketing briefs and creative briefs going to creative agencies around the world, Ansell's global marketing team underwent training recently on how to write a clear brief.
"Too often we don't have clarity of purpose," Mackey warns. "If you can't make something simple and clear, you can't communicate it well."
At Ansell, brief-writing training focused on ensuring briefs include the following key elements:
Background information and commercial context

Target audience

Objectives

Unique value proposition

Reasons to believe

Key takeaway

Deliverables

Budget

Timelines
Mackey says there is a lot of merit in developing a single-minded proposition that will be instantly understood by the target audience — although marketers often struggle with that part of the brief.
"It is often a huge challenge for marketing teams to get that right," he says.
But the other element of brief-writing that is often neglected, Mackey says, is the process of managing a brief through the organisation, getting buy-in along the way, so that it results in an effective piece of marketing communications at the other end.
The forgotten 'internal' audience for the brief
According to Mackey, briefs must be written for three audiences:
The target audience

The creative team that must turn them into a piece of marketing communications that will resonate with the target audience

The broader company and its employees.
The internal audience is the one that is most often neglected, Mackey says.
"You need clarity around the elements that come together in the so-called promise," Mackey says.
"You may come up with something you and your marketing colleagues buy into – something you believe will resonate, something you can work with as a marketing collective. But then the question is, 'Is it something the broader organisation will get behind?'
"Getting consensus within the organisation is important. If the internal audience doesn't relate to what you're talking about, you've got a problem. They're going to say, 'Here comes marketing with something that won't drive sales or that's not connected to the business'. You need to take them with you on that journey."
So with that in mind, here are 7 tips for getting buy-in for your briefs:
1. Present the brief to external stakeholders
When you're working on a significant campaign, present the brief to the stakeholders external to marketing whose support you will need for the resulting communications to get the best possible result.
"Show them the brief and ask them if it works for them," Mackey says.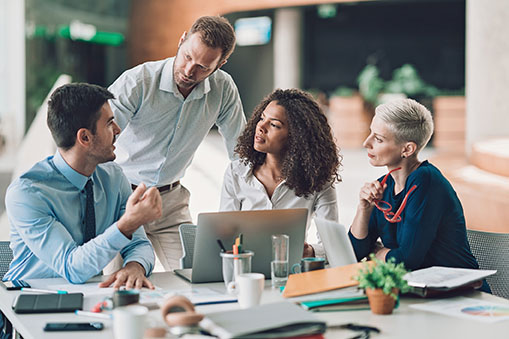 2. Go broad
It's not just the sales team that needs to be across what marketing is doing, Mackey says. Go broader than that.
"If everyone who has contact with customers hasn't bought in, you've got a big problem with communications. Customer success may have some insights that are worth understanding," he says.
"Often briefing all customer-facing people on what this campaign is all about — why you're taking this tone, why you're using these images, which channels you're going to use and why — is crucial to ensuring they understand the campaign and they're comfortable with it. That's critical," he says.
"It's particularly important for customer success and sales because they're probably going to get asked about the campaign and if they're not prepared to defend, explain or advocate for it, you're going to handicap yourself."
Need to improve briefing at your organisation? Get your free Marketing Brief Template
3. Keep the organisation up-to-date
The thinking behind a campaign may change as the campaign is being developed. New information or research may arise. The creative agency may have unearthed a powerful insight presented back to the marketing team in the reverse brief, or creative proposal.
If the message changes, this shift also needs to be communicated to the broader organisation.
"I often find it's best to do this iteratively," Mackey says. "Have continuous iterations of your thinking documented and a review process — both formal and informal — where you're continually talking this through.
"You need both informal channels and a structured series of meetings and discussions, workshops or presentations. As the marketer, you must own it and be accountable," he says. "You need to bring the distributed organisation along with you."
4. Make use of collaboration platforms
Use your intranet, your marketing operations platform or your internal messaging system to open communications with the rest of the organisation outside set times.
"Share the rationale, the thinking and make it clear you're open to discussion," Mackey says. "You can't communicate enough, in my opinion."
5. Retain decision-making within marketing
But while it's important to communicate, don't confuse this with delegating your responsibility as marketers to determine the right course, or you'll end up with a committee-driven result that no one will buy into.
"It's okay to have debates and disputes," Mackey says. "Encourage robust discussion and then once you've determined a course, commit."
Download your free e-book: How to Write the Perfect Brief
6. Seek support in the C-suite
If the head of marketing and one or two others in the C-suite back your marketing initiative, you will most likely get it funded, says Mackey.
"But if you don't have the organisation on board, you will have an implementation or follow-up problem."
7. Enlist the help of the organisation to amplify the campaign
Ensure you make campaign materials available to the organisation and encourage external stakeholders to share it themselves, Mackey says. Give guidance to staff, sales, customer success, retailers, franchisees — whomever it may be — on how they can assist by sharing the messages, and give them the tools with which to do it.
"They may not be proficient on Twitter or Instagram. But they probably have a Facebook or LinkedIn account. Encourage them to help marketing amplify the message," he says.
So ensure the internal audience — stakeholders external to marketing but within the broader organisation — are with you and marketing will be more effective within the company, better informed and more insightful.
"You need a broad church to get stuff done," Mackey says. "But if you build that sense of mission, vision and purpose, then you can do great things."
To find out how Simple's marketing resource management platform can help your marketing team reduce complexity and be more effective, Book a Demo.