How to Build a Better Marketing Plan with Simple
Marketers spend a lot of their time planning. Talk to some marketers, and it feels like that's all they do: plan out the year; set out the quarter; get into the nitty-gritty of the major themes and campaigns; schedule, brief and co-ordinate the agency work; review and plan again. But how can you spend less time on the admin, and more time on the necessary strategic thinking?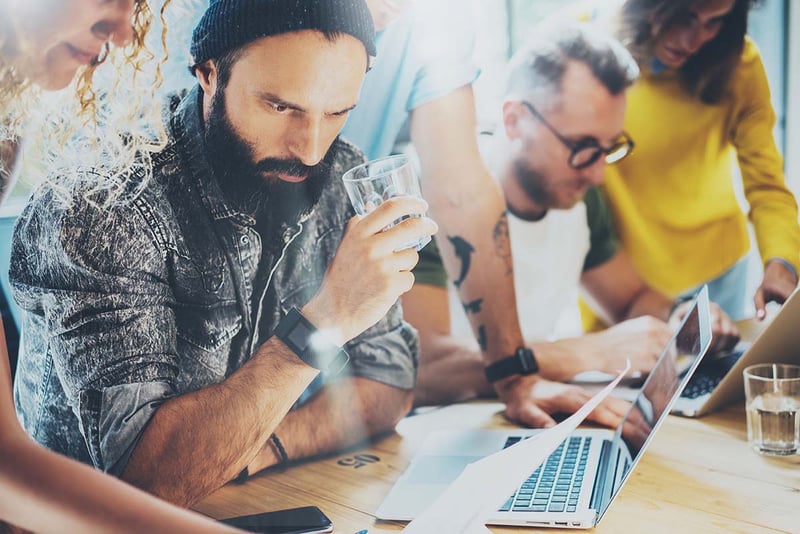 How can you devote more time to coming up with creative concepts that will over-deliver on your objectives for the year (or writing better briefs that will help your agencies to nail them)? And waste less time mired in spreadsheets, finding and correcting data entry issues?
Here are 8 ways Simple can help you build a better, more effective marketing plan — and save time while doing it:
1. Review last year's activity
Whether you base your new year's marketing plan on the previous year's activity or you're taking a zero-based approach to planning, you still need to know what happened last year: which were your major marketing themes and activities, what worked and what didn't, and which of those should be reconsidered for the year ahead?
In Simple you can view all your past activity in the Marketing Calendar, filtered by the date range, divisions, teams, brands, disciplines, personas and any other attributes that matter to your organisation. Want to see all brand campaigns that cost more than $1 million targeting women aged 24-45? It takes just seconds to select and inspect the view that suits you.
And because you can capture campaign results in Simple's Analytics platform, you can review your key metrics, compare them with the strategic objectives entered at the outset and know how effective that activity was.
"Simple helps us plan our annual marketing campaigns, identify possible clashes and support the marketing team's workflow," Children's Hospital Foundation production manager Philippa Bailey says. "We can view all projects in the one platform, providing a valuable organisational overview."
2. Lift-and-shift campaign playbooks
Marketers work back a lot. I'm not just talking about the after-hours catching up on what you wish you had time to do in the office. If it takes your organisation three months to brief, create and approve a new television commercial, and ideally you want to book your media eight weeks ahead to get a better rate, you need to know those timeframes and work back to allocate resources to get this done in time to meet those media deadlines.
Simple enables you to clone successful activities at the click of a button — with their attendant tasks, timeframes and approval structures — creating playbooks for certain types of marketing activities that can then be dropped into your plan whenever it suits with all the administrative thinking done.
"Planning the lead times and SLAs on it all is a frustration," says New Relic senior marketing director James New. "You know an executive lunch takes three weeks to organise – you just want to lift and drop it in. You want playbooks for all the moving parts that you just redeploy."
3. Budget better
If you're planning in spreadsheets, the likelihood is that while the plan is up-to-date when you kick off the first wave of activity, new projects that come up throughout the year are not entered on the plan and it quickly becomes out-of-date. That means keeping track of what you're spending as soon as it is approved, and making sure you're on-budget is difficult, even with help from finance.
In Simple you can attribute budgets to all your activity, and if you add new projects to the plan, you can immediately view that project on Simple's marketing calendar, alongside your other activity, giving you better visibility into what you're spending — as you spend it.
"You can at any time create a campaign – and it can become part of your plan," says MRM Sherpa founder Andrew Chatfield. "It's about getting planning out of spreadsheets and making planning centralised, continuous, collaborative and iterative. It's no longer a one-time thing."
4. Collaborate, in context and in control
Spreadsheet plans for enterprise marketing teams tend to show everything, line by line, drowning users in the detail and making it almost impossible to get a clear view of the part that's relevant to you. Slicing and dicing that information to get data you can actually use is hard. Safeguarding your own data if others are entering information into the same spreadsheet can be tricky. And if you're still sending Excel spreadsheets around, version control can be a nightmare.
In Simple's centralised, cloud-based platform, collaboration is made easy because different users have access to different data sets according to what they've created and what they're able to approve. Editing rights are carefully controlled and stakeholders external to marketing can see their own projects but not those belonging to every other team. The CMO can get the overview she needs, the feasibility committee can track and stop clashes before they happen, and the marketing planner can drill down to the nitty gritty of their own campaigns and projects.
"Stakeholder collaboration on the marketing plan can be difficult – you just want one pane of glass where everyone can see just the view they need, and team members can see the granular bit they need to see," says New Relic's James New.
WANT TO LEARN MORE ABOUT HOW SIMPLE CAN IMPROVE YOUR MARKETING PLANNING?
CONTACT ONE OF OUR CONSULTANTS
5. Be agile and iterate
These days, it's hard to go a week without reading about a chief executive who wants their brand's marketing to be more agile and responsive. With agile marketing such a hot topic, elements of your marketing team — such as digital or your in-house design studio — may need to be able to work in an agile way, reprioritising and replanning the immediate workload every week or two, according to what recent data or new corporate directives indicate — or simply in order to work more closely with the technology team.
Simple's agile platform allows teams to run a prioritised backlog of work that they can add to, move up, shift between different team members, or otherwise alter at any time. The workflow can be managed on a centralised kanban board and stakeholders can easily view and follow the progress of their work.
"There are walk-ups everyday," says general manager of marketing Glenn Flower of how Telstra Wholesale's marketing team plans and schedules work. "It's difficult to prioritise because it's not planned.

"We made the decision to run agile in our marketing team," he adds. "From my perspective, a triage platform that enables the leadership team to prioritise the most urgent and important work and align that to business goals is critical. We can also understand at any one time what the capacity of the team looks like."
6. Plan to re-use creative for time and cost reductions
Not every piece of marketing collateral needs to win an award. Sometimes marketing is about keeping the lights on, or moving people through the funnel quickly and painlessly. If you know you will run an email reminder campaign every year at tax-time, for example, assess the prior year's creative assets for re-use or repurposing and cut down on the work required to pull this year's version together. Or if a particular landing page format works well, plan to replicate that format.
Because you can view and access your approved creative assets in Simple's digital asset manager — and see campaign results in the same system in which you plan your campaigns — Simple allows marketers to plan to re-use work with minor updates where required, saving marketing head hours as well as production and agency costs.
"We can see what's been done year-on-year," CHF's Philippa Bailey says. "Next year we'll be able to see an overview of campaigns, plan ahead and re-use assets. Clients can copy information from previous briefs, saving time on year-on-year projects."
7. Tag and track your work
Most marketing teams plan annually and reassess as the year progresses. Annual business goals are translated to marketing objectives and directives are handed down from the CMO: 'This year we're aiming to grow our share of 18-24 year-old males and we know they spend most of their media time on their phone, so let's allocate 25% of our total marketing activity to mobile platforms.' But if you can't track where your resources are being allocated as you go, how will you know if you're on target to meet your strategic objectives?
Simple allows teams to tag and track all activity as it is created in the marketing plan according to whichever attributes are most important to your business: by team; by marketing discipline; by activity type (eg. brand versus activation); by persona; by channel.
"You do get people following the letter of the law rather than the spirit," one senior marketing planner says. "Different marketing teams will say they're doing what we need them to do, but they may go back to what they wanted to do."
8. Know your team performance stats
Capacity planning can be tricky in marketing, particularly when ad-hoc events arise and important, pre-planned work gets bumped in favour of urgent unscheduled work. Knowing what your team is working on, how that work is progressing and how long things actually take will help you plan and keep that plan on track.
Simple provides team activity data that records how long particular activities take, and indicates where the bottlenecks in your marketing and agency workflows might be, enabling marketers to better manage workflow and identify training opportunities that can increase team capacity.
"There's always the finger-pointing," Rogue Consultancy founder Jenn Johnson says. "Get that approval process right in-house. It's around being able to measure the effectiveness of your relationship between all your counterparts. Having the data will tell you where you need to streamline things so you can be more effective."
Bonus: 9. Keep results at your fingertips for next year's plan
Increasingly, marketers can track campaign results the day or week campaigns launch, but often those results are not retained in the marketing plan. That means planners spend hours chasing up data so that results can be compared and decisions made when it comes to formulating the next year's marketing plan.
Simple enables teams to set up dashboards of key metrics to capture results in Simple, ensuring they're at your fingertips when it comes to the next planning cycle, saving you the time and trouble of having to track that information down later.
"Everything depends on your team's access to data," says University of Sydney marketing academic Brad Amos. "The two things affecting how responsive you can be are immediacy of data and the product sales cycle."
Use Simple to manage your marketing planning and you'll reduce planning time, remove hours of repetitive admin and make better use of your existing assets and team capacity. That will save your marketing team time and resources, allowing you to spend more time on strategic thinking and making your entire marketing team more effective.
Simple's Marketing Operations Cloud helps teams plan, review and optimise marketing activity across all channels. Book a Demo to see how it works.