Discover 9 admation features that help you manage project tasks
Admation blends a number of great features together to offer one fully-integrated solution to help you manage your creative projects. This week we?re going to take a closer look at admation's project management and approval workflow features to demonstrate how its inbuilt tools can help you and your team work more effectively.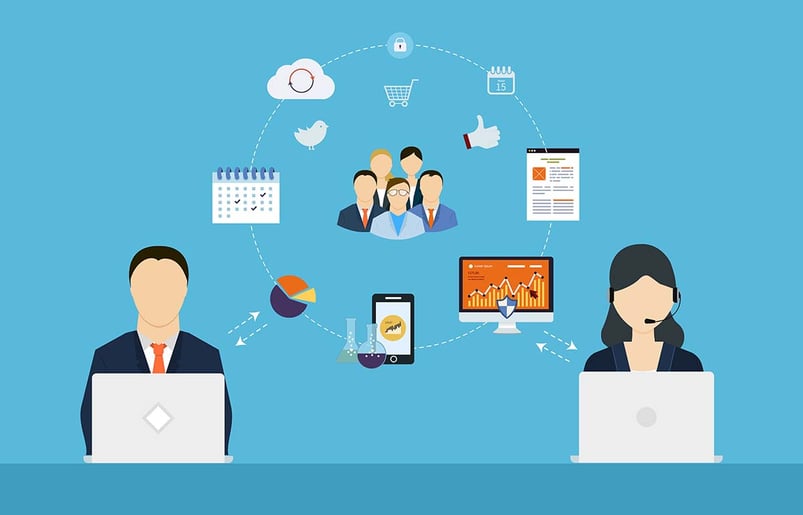 How admation's project managment software benefits you
1. Online briefing templates and tools for greater ease
Admation enables users to set up online briefs
and customise these to their specific requirements. This means that all fields can be included on project and brief templates so that important details aren't overlooked. When a project is already set up, its title and deadlines can be automatically transposed to the template document so that you don?t have to re-enter details.
Admation's online briefing tools also enable you to duplicate a project brief to another deliverable in the same project or to an existing project. This tool not only makes briefing easier, it decreases the chance for error and time-consuming work to fix the errors.
2. Dispense with traditional tools with admation's document management feature
Save all of your documents in one central location, which can be accessed by any approved stakeholder anywhere, any time. Admation's inbuilt document management tool allows you to upload and download any project document. This tool also has an intuitive search function so that documents can be located quickly and easily. You can also save artwork files and briefs so that all files are available at the click of a button. Additionally, a project overview means you no longer have to laboriously track work on a spreadsheet - it's always live and available online.
3.

Admation's user-friendly Dashboard offers more clarity
The Dashboard?s header bar is set up in chronological order with 'Projects, Approvals and Ad Storage' appearing left to right so that it's easier to manage your projects. The Dashboard also provides an overview of all work in progress on one screen, which means you can ascertain where approvals are at in just seconds. A new Approval Submission feature has been added to the Dashboard to simplify the process of uploading artwork to an existing or new project for approval. Users can upload files in no time with admation's drag n' drop tool. For those new to admation or occasional users, it?s now easier for them to navigate their way around approvals.
4.

More time for the work you love with admation's Project Details Screen
Admation's Project Details Screen provides a summary of all projects so you don?t have to go clicking through endless tabs to find information. A new scrollable interface means you can find important project milestones and items faster. An approval feature also displays the status and number of deliverables so you know exactly where work is at. Feedback that needs to be reviewed is also clearly highlighted.
5.

Full Screen Approval for Batched Deliverables feature for speedier approvals
This batch approval feature makes the approval workflow process easier than ever before. Reviewers can view and approve a batch of approvals on the one screen. For example, you might have ten banner ads or print posters that need to be approved. No problem at all. The reviewer can simply select and approve these items all at once. They can also forward selected items on to other stakeholders in just a few clicks.
6. An Approval Checklist to ensure reviewers complete approval requirements

Admation's Approval Checklist feature
is a must-have tool that provides peace of mind when managing approvals. Simply set up a list of items that reviewers need to check off before they submit feedback to guarantee they provide all the necessary information. This feature decreases changes and revisions which means your resources can move on to more important work instead of continually making changes. It also removes bottlenecks which is one of the main causes of approval delays.


7. Place a project On Hold without losing important data
When juggling so many marketing projects, it?s not unusual that some projects get postponed for a variety of reasons. Admation's On Hold feature allows marketing teams to place a project on hold. While the project will not appear in your Projects list, you can still download files and add any working notes. If you want, you can also choose for the On Hold status to remain visible so the project doesn?t fall off your radar. You can also notify resources and stakeholders of the On Hold status. You can delete the project at any time too.
8. Reminders and alerts keep stakeholders on track
Admation's reminders and alerts shortcut the usual administration required for sending artwork for approval. To send an approval, you simply have to click on the ?Submit for Approval? button which allows you to select the deliverable that needs to be sent out. Next the submission management tool enables users to edit the recipients, set up deadlines, and attach files and comments. When editing recipients, users have the option of setting up tiered approvals. For example, a selection of stakeholders can be sent artwork first and, when approved, another selection can receive it. When setting up deadlines, reminders can also be automated so that if a stakeholder misses the approval deadline, a reminder will be automatically sent out so that you don?t have to do the chasing.
9. Reporting tools can create reports in no time at all

Admation's project management feature
also incorporates a handy reporting tool. This tool enables users to generate reports for work in progress, resourcing expenditure, artwork revision counts and project requests. The latter report means that creative teams can ascertain where their requests are coming from and how often, so as to better prepare for them. It can also highlight if departments are overusing creative resources.
Thinking its time for your team to adopt a project management software? Download our whitepaper to assess if your team is ready.