How to Consolidate 4 of Your Marketing Tools with 1 Solution
Anyone who's ever been part of a marketing team understands how chaotic it can be to execute on strategy. This only gets worse the larger your team gets. You end up with tool chaos — multiple logins, jumping in and out of different tools just to get work done.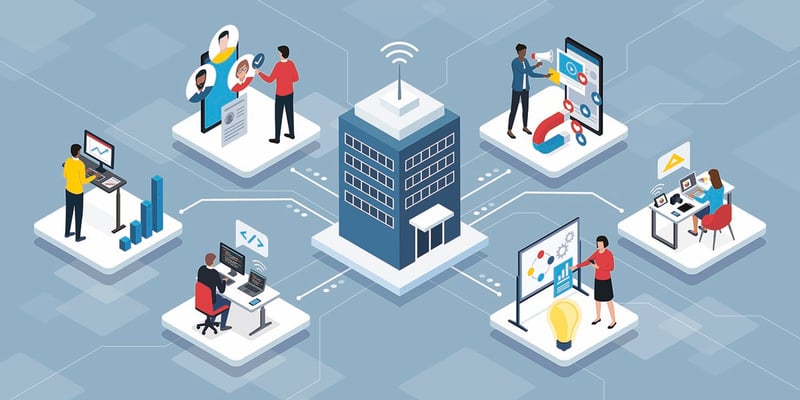 How good would it be to have just one central place to work from as a team? With a Marketing Operations Cloud platform such as Simple, you can have one system of record and one place in which to get all of your marketing done.
Here's how to consolidate 4 of the existing marketing tools you use to get work done with Simple's end-to-end MRM platform.
1. Marketing workflow management tool
If you're part of a wider marketing team, you know the drill. Your digital team is using a ticket management system to ingest work, but the rest of you are using a project management system.
How do you relay work requests from one platform to another? How do you collaborate on completely separate tools?
You can't. More often than not, you'll use another tool, such as email, or your internal messaging system to relay requests and communicate changes. Oh, and there has to be someone acting as a go-between to follow up and make sure it gets done.
Consolidate it: Simple's software is built for marketing teams, allowing them to work as a team across everything — from planning, through production to analysis of people and program performance.
If other teams need access to Simple, just give them a login! They can track all the work they've requested with complete visibility — and approve and comment within the one tool.
2. Marketing calendar
Are you using Excel to track all of your marketing activity? You shouldn't be.
Here's why:
Cross-referencing between channels is confusing.

Entering and updating information is a time suck.

Budget tracking is often in another spreadsheet somewhere.

You aren't able to quickly make changes to your campaign.

The wider management team has no way to see what's in-market quickly.
Spreadsheets are only as good and as accurate as the data that gets entered. And if you're the one actually managing a campaign, the information you need is much more granular than what the CMO needs.
Consolidate it: With a tool such as Simple in place, marketing teams can forward-plan their campaign activity, ensuring alignment to future objectives, business targets and resource capacity.
Also, marketing calendars can be configured easily to improve provide visibility over completed and planned work, by team, by role, by campaign type, by segment, by product and by channel.
3. Approval tool
Most marketing teams are used to having disconnected approval processes. Usually, it's all done via email.
The problem with this is it's messy. Email approvals aren't tracked. There's no way of verifying that what's been sent for approval is actually the latest version of the asset. And the approver needs to rely on the person sending the email to provide the context for why the asset was created.
Not only is it cumbersome — it's risky, too. There's no way to enforce the correct approval process that the asset needs to go through before it's launched.
Consolidate it: By incorporating legal compliance into your workflow, you can reduce risk while increasing speed to market.
4. Asset management tool
If you're working with assets — especially digital assets — you know how messy things can get.
Are you storing all of your assets on…
Drive?

Dropbox?

A shared server?
In reality, many assets will probably be stored on individual desktops. That's not great for saving time spent searching for assets, allowing for better re-use of existing assets, or creating consistency.
Regardless of the size of a marketing team, it's clear that investing in technology for better digital asset management will reduce costs, increase productivity and consistency, and give your brand its best chance of converting prospects to customers.
Consolidate it: Simple provides a central place for teams to manage their marketing assets across all media channels. In Simple, every asset is assigned relevant information such as keywords and usage rights, so you can quickly find the material you need and have the confidence to use it.
Use our DAM to view all marketing materials across channels and throughout the customer journey, so you can ensure you're creating beautiful, consistent customer experiences.
Through our open API, assets can be mapped to intelligent workflows and passed off to common cloud-based channel execution tools such as marketing automation, CRM and CMS systems.
Consolidate all of your existing tools into one Simple solution
Simple's Marketing Operations Cloud platform empowers enterprise marketing teams to plan, review and optimise their marketing activity to create profitable customer experiences. Contact us to learn more.