Got Bad Briefing Habits? Simple Can Help You Brief Better
Got bad briefing habits? Simple can help you brief better
Marketers often find it a struggle to write the marketing brief or project brief that clearly explains the problem they need their creative agency or in-house creative team to solve. When it gets to the agency, they often re-interpret that document in the creative brief, or reverse brief, and this becomes the agreement that outlines the agency's agreed scope of work for a particular project. But if those initial instructions are misdirected, vague or incomplete, it becomes very difficult for the agency or in-house creative department to deliver what's needed. They're not mind-readers, after all.
In one study of agency executives, on average, 30% of agencies' time is wasted by poor communications from the client. Translate that into agency fees, and there's a lot of upside to correcting bad briefing habits.
If your marketing team has developed some bad briefing habits, there's a lot at stake if they're allowed to continue. If the brief is too rushed, doesn't contribute to marketing's strategic objectives, or has little support internally, the resulting creative proposal will be incomplete or off-strategy, and may need to be re-done, adding valuable time to your go-to-market process. In the worst-case scenario, your marketing project could ultimately stall before it's even launched.
Managing briefs is easy with Simple's briefing software and marketing resource management platform.
One briefing tool to rule them all
Briefing is one of the pillars of Simple's marketing resource management platform. At Simple, our objective is to make our briefing software so useful that our customers use Simple for every brief, covering every channel to market.
Most marketing teams currently receive internal work requests from various external-to-marketing stakeholders by email, or perhaps as a verbal instruction in a meeting. Some of these are all-too-brief. Others are vague, confused or simply don't fit with marketing's strategic objectives.
Simple's briefing software, designed for marketers by marketers, sets the benchmark for the standard of briefs the marketing team receives, as well as the ones they write for their external creative agencies or in-house creative team.
It can be customised to suit your products, channels and markets, ensuring you get all the information required to fulfil the brief — and only that information — every time.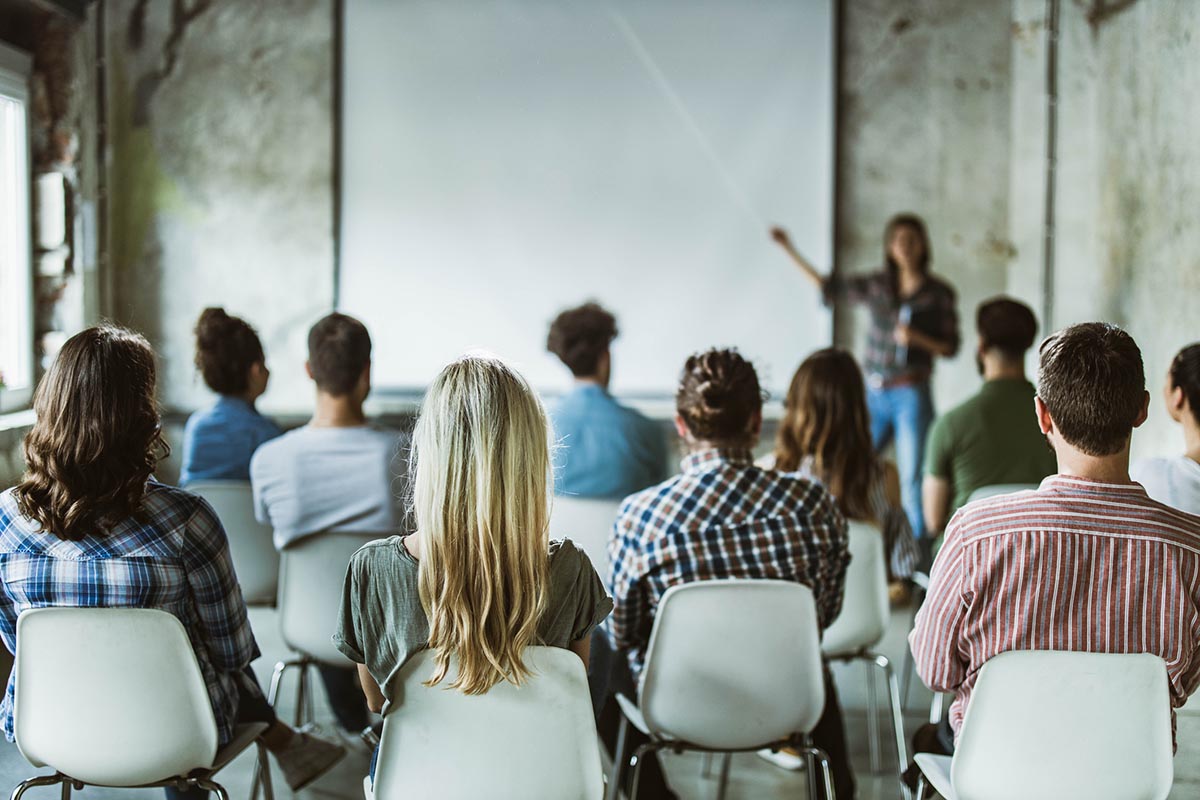 Here are 6 ways briefing your marketing work in Simple will help you brief better.
1. Manage briefs and requests
In Simple, internal stakeholders external to marketing can fill out a brief form and submit a request to marketing. The marketing team can easily view, manage and prioritise different projects and requests using Simple's Backlog view of incoming work.
Briefs can be accepted or rejected if they are incomplete or off-strategy, and Simple also allows stakeholders to track feedback on the briefing and creative process, and keeps it all in one place.
Once a brief has been accepted, stakeholders can follow the progress of that work through to completion.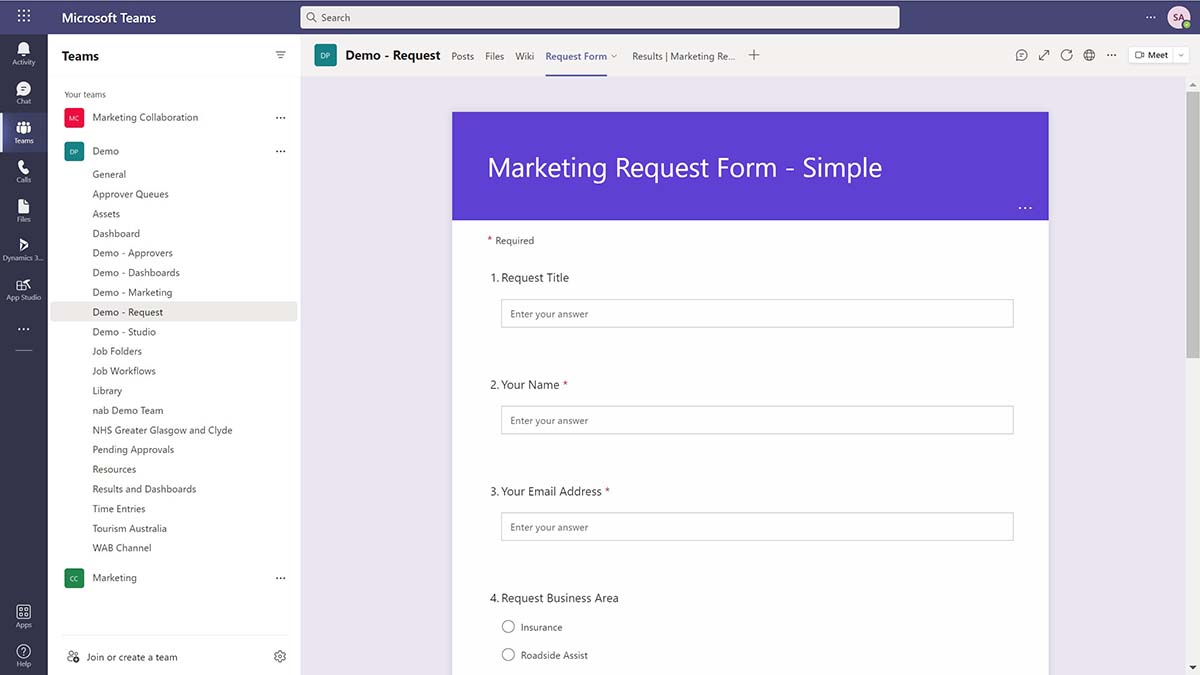 2. Templates to improve briefing standards
Templates improve the standard and consistency of briefs, helping all stakeholders to brief better.
Briefs in Simple come with a range of pre-set fields that can be tailored to suit your company's marketing process and structure, with custom fields included and extraneous detail removed. This not only makes it easier and quicker to fill out a brief, it helps improve the overall standard of briefing.
You can ensure and communicate alignment with your strategic objectives by including those goals and other essential pieces of information in your briefing templates in Simple, so your entire organisation and your agencies all know what's required.
And to help stakeholders who may only request marketing work irregularly, Simple's briefing forms can include instructions to ensure consistency and accuracy.
No more endless email trails back and forth with your creative teams to clarify the brief and provide all the necessary information to complete it.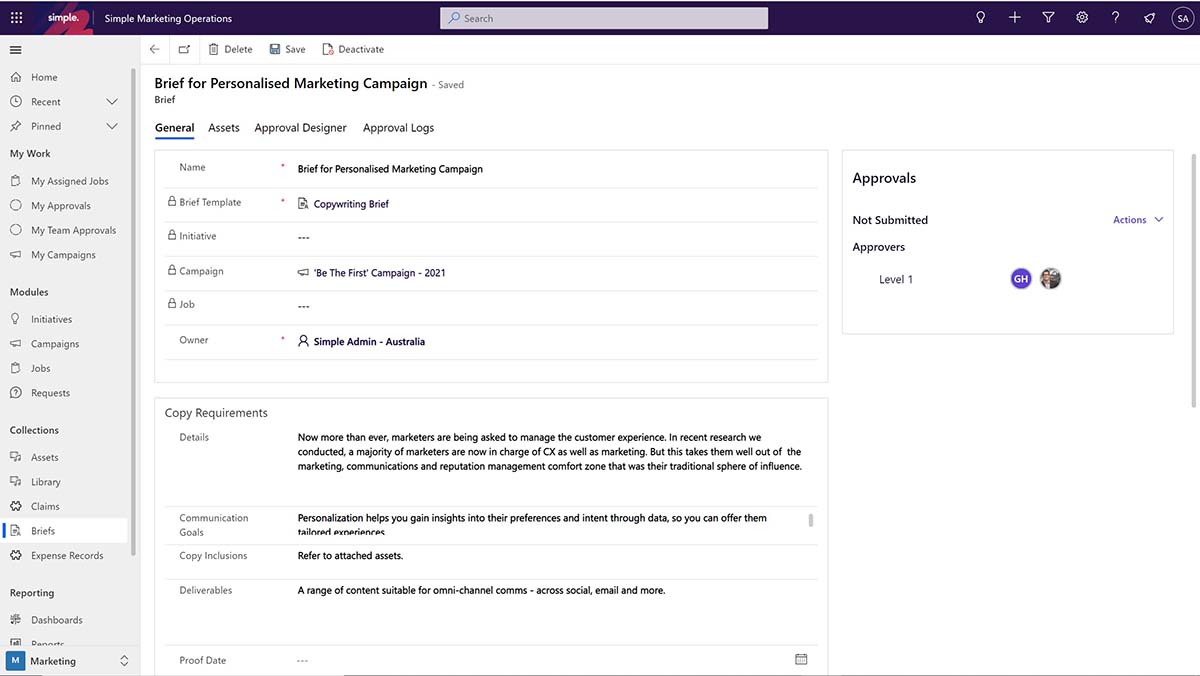 3. Centralise and re-use information
Re-entering information you just entered a week ago is annoying enough when it comes to your bank or insurance company details. Re-entering target persona or competitive market data that hasn't changed since the last time you entered it sucks up valuable time that could be put to better use thinking about the actual marketing problem.
Briefs in Simple streamline the briefing process by eliminating repeated work. You can automatically pre-populate fields such as competitive data, background information about your sector or industry and target personas.
Managing amendments and approvals in one place with your briefs and campaigns streamlines your entire marketing process.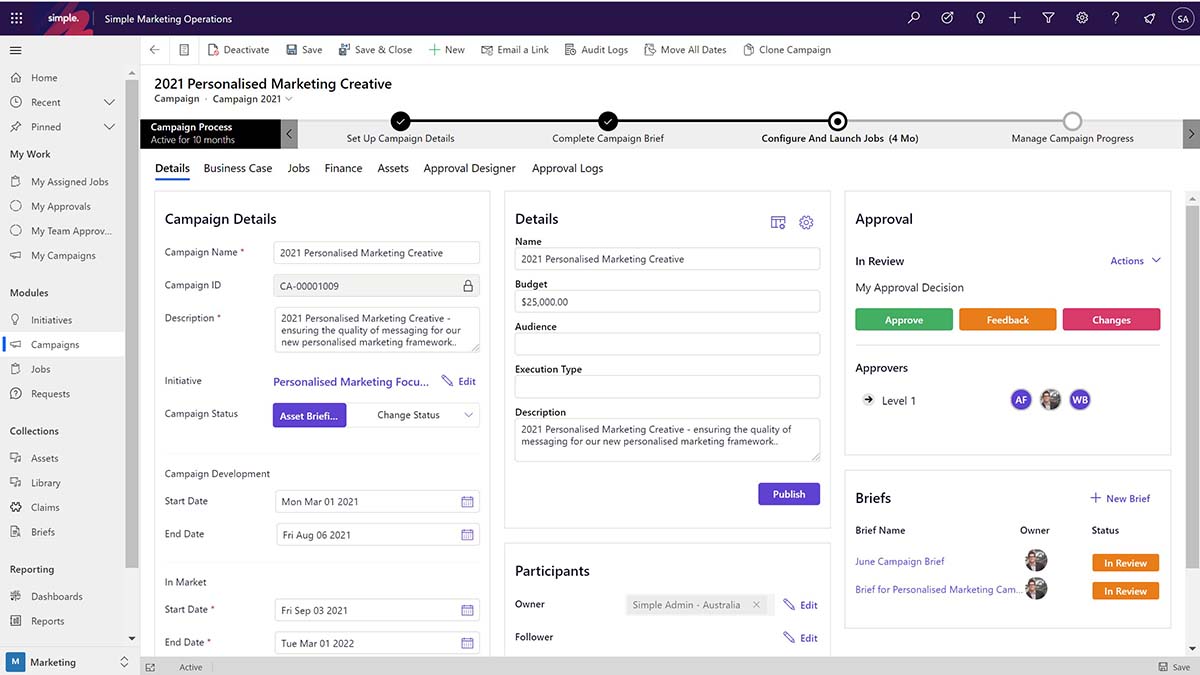 4. Store and distribute your essential documents
With the current high level of turnover in marketing teams, it's easy for processes and reference documents to be forgotten or superseded. And for new arrivals, the location of your brand guidelines, corporate logos or legal guides is often a complete mystery, meaning briefs often go out incomplete, requiring a lot of unnecessary back-and-forth and time wasted to get the job done.
Simple's marketing resource management platform can help you store and keep these updated in a centralised location so they can be easily referenced internally by your staff and your agencies alike.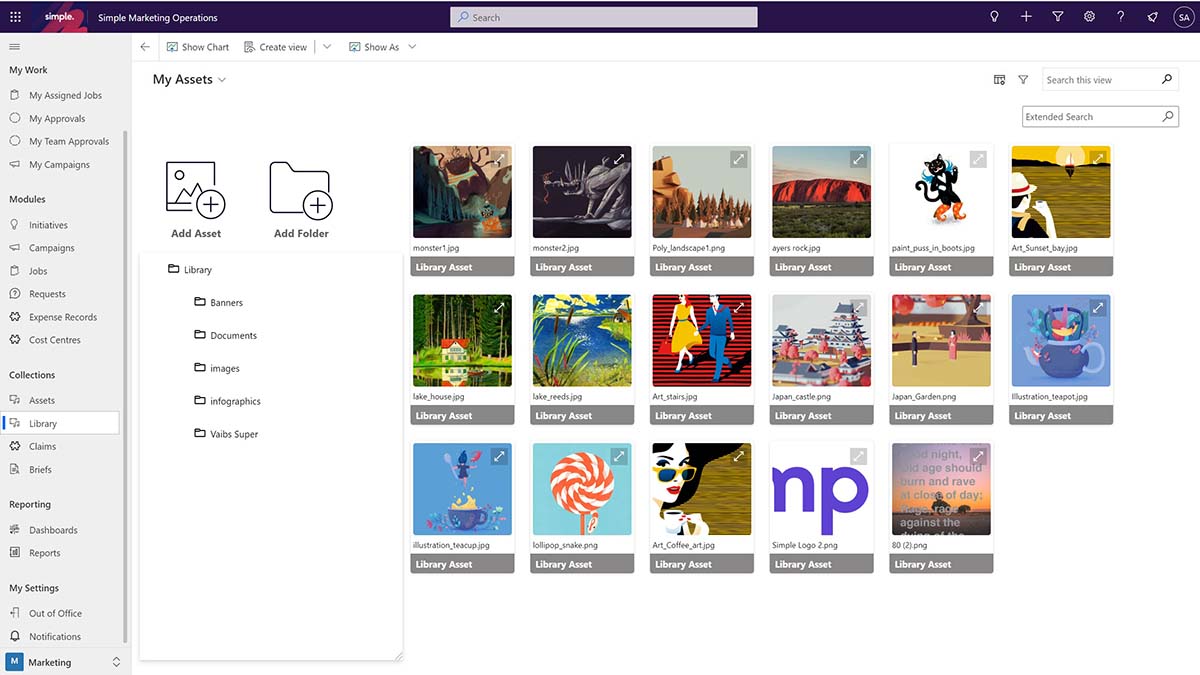 5. Manage approvals
For a marketing brief to progress to launch, it's important to get it approved early, by the relevant decision-maker, and communicate progress often. But limit the number of approvers of both briefs and campaigns to ensure briefs are not held up unnecessarily along the way.
Simple can automate your process for brief and project approvals, ensuring only the right people see and sign off on your proposed creative at the right time – so your campaigns can launch on time, every time.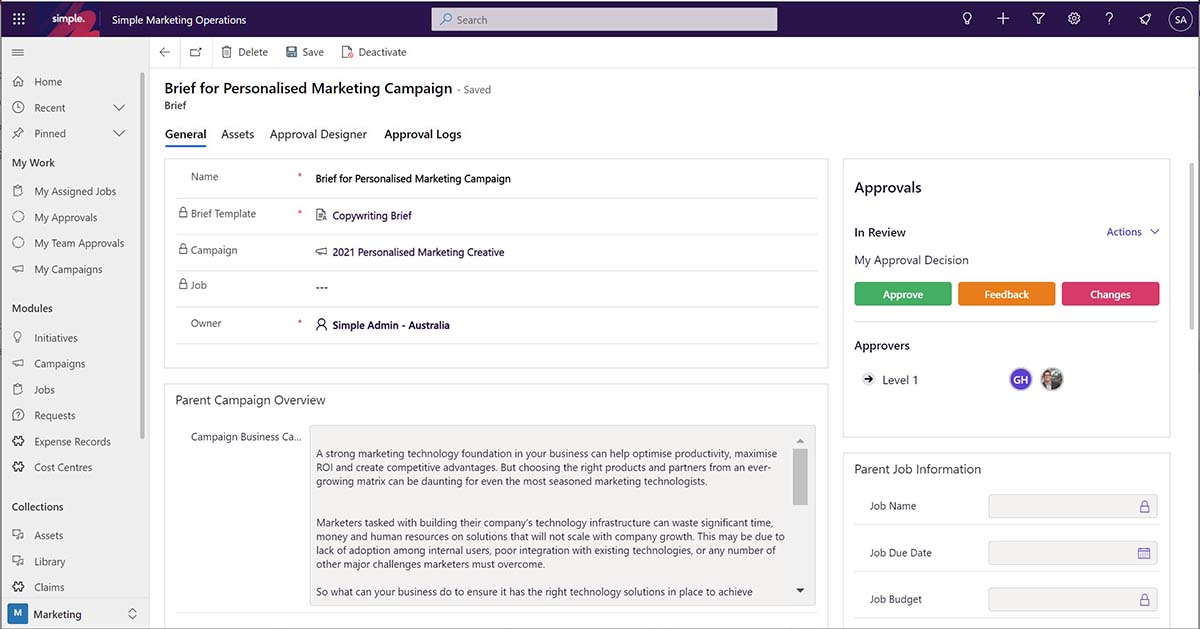 6. Track and communicate best practice
Does one team keep getting the brief wrong? Or maybe one team member really has a knack for nailing the marketing briefs for your creative agencies.
Tracking changes and revisions to the brief and linking these with internal team data captured in Simple — such as the length of time it takes a campaign to go from brief to finished creative work — can help you identify bottlenecks that are slowing you down and show you how to improve team performance.
And if a particular campaign generated fantastic results last year, Simple stores the brief for you to reference and re-use as you develop best-practice templates and workflows.
Among other things, briefs in Simple strive to:
Serve external stakeholders that only rarely request marketing work

Guide people who don't know how to write a brief, and

Inspire creative teams looking for that one key insight on which to hang a campaign (informed by all the necessary business, competitive and audience-based information, and none of the unnecessary stuff).



Above all, using our briefing software enables marketing teams to achieve alignment with marketing's strategic objectives, streamline the briefing process to improve consistency, lower their time to market, and achieve better creative outcomes.
To find out more about how Simple's Marketing Operations platform can help your marketing team brief better, Book a Demo.