How to Run a Marketing Productivity Program in a Marketing Operations Platform
"Start by doing what's necessary. Then do what's possible. And suddenly you are doing the impossible."

St Francis of Assisi might have been talking about something entirely more altruistic than marketing, but his words still hold true when it comes to tackling any complex task — and finding ways to make your marketing team more productive surely falls into that basket.
Marketing, as we know, is a combination of messages, delivered to particular audiences at certain moments in time across a range of channels, with the aim of persuading them to think, feel or do a particular thing.
Over time, with the addition of more channels, changing messages, new products, redefined personas, newly acquired martech tools and new staff, marketing programs have a habit of becoming inefficient, bloated — even misdirected. That means your resources — the time of your marketing team, your external agencies and your budget — may no longer be being allocated in the most productive way possible.
This is especially true following Covid, as Gartner's Annual CMO Spend Survey revealed that market budgets dropped to an all-time historical low – to 6.4% of revenue in 2021 from 11% in 2020. The result is that the effective use of resources is more important to chief marketing officers than ever.
While the economy recovers from it's downturn, and things pick back up, we expect to see marketing budgets increase. However, even before Covid, what we saw was that generally spending tended to be relatively flat – with spending at 11.2% in 2018 and 10.5% in 2019, before going back to 11% in 2020.
So, if you can't rely on an increase in spending to bolster your marketing activity and performance, then a marketing productivity program could be exactly what you need. In fact, even if spending did increase, an increase in productivity is always welcome. And, depending on the success of your program and your needs, this could be about doing more with less, about achieving more with the same or similar resources, or reallocating those resources in order to get better outcomes.
Productivity is about:
Working smarter

Being more effective in the time your team has

Less time spent on unnecessary tasks that can be eliminated or reduced.



Productivity is not about:
Working harder

Working longer

Having less time to do work.




Before you launch a marketing productivity program, let's be clear: It must be supported and communicated as a priority by your marketing leadership team before it can be fleshed out, put into practice, reinforced and improved. And someone needs to be appointed to manage it, share learnings and help keep productivity front-of-mind. It will not manage itself. Eventually it will become a learned skill and part of your marketing team culture.
Happily, marketing resource management ('MRM') or marketing operations technology can be used not only to implement and underpin key process changes to improve productivity and effectiveness, but also to keep your productivity program top of mind.
Read next: Productivity Issues Drive Mainstream Brands to Try Agile Marketing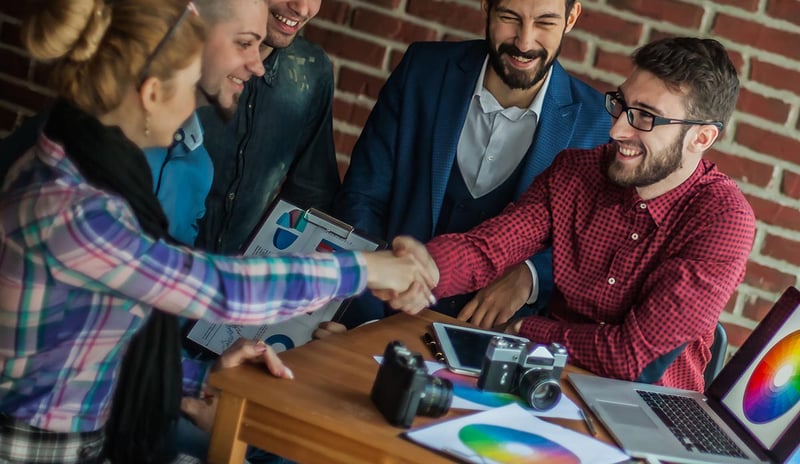 Here are 10 ways an MRM or marketing operations platform can be used to run your marketing productivity program:


1. Set your benchmarks
To prepare your marketing team for a productivity drive, the first step is to assess and benchmark current resources, expenditure, output, time taken, and results.
Budgeting information, staff allocations by initiative, campaign and task, the length of time taken to complete them, the amount of work produced and the results of that marketing activity can all be captured within your marketing platform.
Gather your data on a team-by-team, customer segment or product basis — however you like to understand your marketing activity — and establish your current benchmarks.
How Can You Do This?
Use your marketing activity data to segment your activity by budget, resource allocation, output in terms of volume and velocity, and results

Set minimum benchmarks to be met for each team's planned activities



2. Set a productivity goal for every team
Set a productivity goal for each customer segment, division or team. It might be to reduce production costs by 10%; eliminate or reduce agency charges outside the scope of your SLA; or streamline your marketing process to create more time for your existing staff.
Put some rules around it: teams should not be encouraged just to eliminate previous marketing activity to save costs. A good rule of thumb is to stop, change or continue: but if you drop an initiative, you must find a way to maintain at least the same results it achieved the previous year.
One example a customer of Simple experimented with was to run fewer advertising campaigns a year, but to run them for longer, and to reinvest those production savings into media spend.
How Can You Do This?
In your marketing calendar, amend your planned marketing activities to apply your productivity improvements

Add a productivity approver to your briefs approval process to ensure each new project continues to meet your productivity objectives
3. Check for cross-functional synergies
How often does your organisation actually communicate with your key personas across different divisions or teams? Identify and eliminate duplicate or conflicting activity and assess whether some activities can be combined for a more efficient use of resources.
For example, if you currently produce 4 brochures for different products, can these be combined into one at a reduced cost?
How Can You Do This?
Segment your marketing activity data by persona and use your marketing calendar to identify duplicate or conflicting activities across your organisation



Read next: The Changing Structure of Marketing Departments in the Age of Disruption



4. Manage your projects and enforce deadlines
Most marketing teams have a somewhat elastic view of deadlines. This is partly because meeting a marketing deadline relies on a combination of team members, agencies and approvers to do their part in the time allotted without any visibility of the overall timeframe or activity plan. And the cost of missing those deadlines is never made clear.
Communicate your marketing plan, processes and deadlines clearly to all parties up-front. And reassess your timelines to ensure there is adequate time for the necessary approvals.
How Can You Do This?
Document your processes and enshrine them in your platform

Streamline approvals to the minimum number of steps required to assess the work properly

Capture briefs to ensure projects are briefed clearly

Institute centralised markup and feedback activity

Template repeatable processes to save time

Proactively inform teams when deadlines are approaching or bottlenecks are in danger of appearing to avoid missing deadlines

Report on and track progress



5. Eliminate time-wasters
Assess your marketing processes to eliminate any unnecessary or over-complicated steps and streamline your standard operating procedures for marketing. For example, if your external stakeholders are poor brief-writers, only accept briefs submitted via properly completed forms or templates and reject incomplete briefs.
If approvals are commonly done via a lengthy email chain, centralise these in one place in your MRM platform.
If work-in-progress reporting takes up a lot of your team's time, start to report live results from your MRM.
How Can You Do This?
Conduct WIP reporting

Accept and manage marketing requests and briefs

Eliminate the need to search for email conversations about amendments and markups by capturing these in your centralised system

Tier your approvals process and capture this in your CRM to avoid unnecessarily complex approvals processes and time-consuming bottlenecks



Read the study: Marketing Operations in the Age of Intelligence



6. Actively re-use and recycle your pre-approved assets
Many marketing teams recreate all their materials from scratch each year. Every end-of-financial year campaign is created fresh — even though the message is essentially the same. Before new work is commissioned, actively examine your previously approved assets to determine if any can be re-used or amended to keep costs down.
For example, you might keep the text the same and just change the image on standard seasonal campaign messages, saving briefing time, and slashing creative costs on that work.
How Can You Do This?
Store your creative assets in your own digital asset manager to enable your team to access and amend existing materials easily

Add a step in your workflow process to ensure your existing assets are assessed for seasonal messaging before new work is commissioned

Identify your hardest-performing assets via captured campaign results and earmark these for possible re-use.



7. Manage your brand effectively
Brand consistency requires constant vigilance — and it's harder to achieve than it might seem. In two-thirds of organisations (59%) marketing is in charge of managing the customer experience. But only 41% of marketers rate their own brand messaging as being very or extremely consistent.
Marketing activity may be created by multiple teams located in different geographic locations and time zones, with input from a variety of creative teams and external agency suppliers — each of whom often want to put their own 'spin' on things.
It can be a constant battle to ensure a brand is treated consistently in all marketing materials, and guidelines are kept up-to-date, disseminated and followed. But it's essential to maximise brand saliency and cut-through — and the return on marketing investment. It will also keep expensive costs and waste – such as the need to pull, re-brief or re-do off-brief work — to a minimum.
How Can You Do This?
Use your MRM as a single source of truth for brand guidelines as well as approval processes

Manage and approve briefs and ensure these are on-brand and include the necessary information to ensure brand consistency

Conduct customer experience checks using the digital asset manager to ensure all marketing materials being created and stored are on-brand



Read next: Brand Automation Means Anyone Can Do Amazing Marketing



8. Work efficiently with agencies
Communications with external agencies and partners are a key area in which process inefficiencies can creep in, pushing up costs and blowing out marketing budgets. But many marketers do not track their own spending against budget, let alone keep on top of things such as the details of individual agency service level agreements.
Marketing ops platforms can be used to enshrine standard operating procedures that apply best-practice processes for dealing with agencies.
They can also be used to create specialised processes for particular suppliers. One example of this might be the media agency — where a television campaign template might be used to trigger a media booking date that is early enough to attract a discounted media rate.
How Can You Do This?
Streamline agency processes ie. consolidate the briefing and reverse briefing process alone to save weeks from your go-to-market period

Track your agency budget spend

Use marketing process templates to communicate and disseminate agency SLAs

Use channel templates to trigger early media bookings to keep media costs down

Use briefing templates to provide briefs that include all information and can't be misunderstood



Read next: 4 Sure-Fire Ways to Improve Your Agency Relationships



9. Minimise risk by building marketing compliance into your processes
Most marketing teams that are subject to ad hoc audits from their marketing risk and compliance teams rarely pass at the first attempt. This is because most marketing teams approve campaign work in emails that are not centrally accessible and are often left in someone's email inbox — even after that person has left the company.
Also difficult is being able to show the correct version of a campaign is what ended up going to air.
Marketing teams not only need to have — and follow — risk and compliance procedures, they also need to prove the organisation's intent to do so to minimise the likelihood of any big regulatory penalties if a breach occurs.
How Can You Do This?
Capture all feedback, amendments and approvals in one centralised location, complete with version control and date-stamping

Incorporate marketing risk, compliance and legal teams into your marketing approval processes to minimise the need to reject and re-do work due to compliance errors

Build disclaimers and approved terms and conditions into your system to minimise human error

Have your system generate your individual campaign tracking codes to get all work briefed, reviewed, approved and stored, completing the end-to-end audit trail



Read next: How to Fix Your Marketing Risk and Compliance Process



10. Holistically manage team and marketing activity performance
Few marketing teams actively document and track their processes, or even share learnings at key intervals in order to roll out best practices procedures. And optimisation is often not emphasised as a marketing discipline but practised on an ad hoc basis. When campaigns work well, they are rarely captured to be repeated easily next time — teams often find themselves reinventing the wheel a year down the track.
But new-age marketing tools can and should be used to improve campaign and team performance, creating a holistic picture of what's working and enabling marketers to direct budget to where results are being generated efficiently for maximum productivity.
How Can You Do This?
Track output, volume, velocity, bottlenecks and base your process improvement on actual team data

Require campaign results to be captured in your system and build an optimisation step into your campaign processes to ensure you double down on what's working

When marketing activity runs efficiently and generates results, save administrative time by capturing the process and channels as a repeatable playbook


Implement even a few of these marketing productivity steps and you'll be well on your way to reducing unnecessary expenditure and unproductive work, and channelling those resources to where they can be best spent.
Marketing productivity programs can largely be managed and run via your MRM or marketing operations system. When your benchmarks are met, the resulting savings can be reinvested into activity that elicits the best results — or even quarantined to establish a 'growth fund' that can be used to generate incremental marketing-driven sales for your brand.


Simple's Marketing Operations Cloud enables marketing teams to work efficiently and productively to drive growth and maximise the return on the marketing investment. To find out how reach out to one of our representatives.