Is your marketing project management software comprehensive enough?
The 2019 Inhouse Creative Industry Report by Boss and Cella has unearthed some interesting results this year. The report surveyed 425 leaders in both creative teams and inhouse agencies to find where efficiencies and challenges loom across the industry.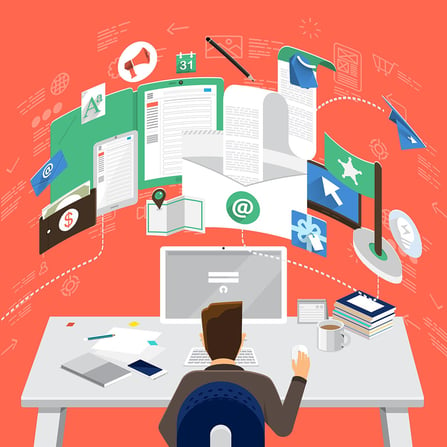 To understand the magnitude of content production today, the report provides a section outlining project turnover according to team size.
For example, last year 25% of teams comprised of more than 50 people churned out between 2,000 and 2,999 projects. In a Goliath effort, 21% of teams with 30-50 people completed somewhere between 3,000 and 3,999 projects. Medium sized teams of 11-30 people were hardly twiddling their thumbs, with 31% producing between 1,000 and 1,999 projects.
With so many projects on the go, it?s no wonder attitudes about adopting marketing project management software to enhance productivity have changed. In fact, this was resounded in the report. One of the ?major shifts? was seen in the technology category with a whopping 82% of respondents saying they?ve implemented a project management tool. While this figure is definitely a positive sign, it?s worth noting that this high percentage encompasses both basic and comprehensive versions of the tool. For example, a basic project management tool might offer a collaboration feature for approval workflow, but not enable users to manage the entire lifecycle of a project.
Project management tools with limited features can limit your efficiency gains
The report demonstrates that while 45% of respondents documented everything when it came to projects, another 42% said only some major projects were documented. This indicates that at least half of those using a project management tool don?t have the ability to store all documents files. In addition to this, 35% are not utilising proofing tools and another 48% have no dedicated digital asset management (DAM).
Creative teams have no doubt come a long way from the days of managing projects and resources on spreadsheets. Nonetheless, some teams are still missing out on critical functions with basic tools that don?t offer integrated features such as document storage, online proofing tools, resource management and DAM. In some cases, teams are adopting multiple standalone systems that just require more time to manage. This blog outlines some of the issues with adopting too many project management tools.
Features to look for when selecting a comprehensive project management tool:
If you?re in the marketplace for project management software, we highly recommend that you select a solution that is fully integrated with features that enable you to manage your projects from briefing through to final approvals. Here are some features to look out for in a system:
1. Project management:
Provides document management so that all files can be saved in one online project folder.
Jobs can be briefed online with briefing tools and templates.
A project dashboard enables users see all projects on the go in one screen.
2. Approval workflow management:
Provides approval pathways to match a simple or complex approval process.
Inbuilt proofing tools enable reviewers to provide feedback and markups online.
The system can send out automated reminders to decrease repetitive approval follow ups.
3. Resource Management
Provides resource and task templates.
Schedule tasks and resources with full transparency over everyone?s workload.
Task timers keep a record of the time spent on tasks and can be automatically transferred to online timesheets.
4. DAM
Store current marketing assets in an integrated DAM so they can be located quickly and easily.
5. Reporting tools
Request daily/weekly/monthly WIP, artwork revisions and resourcing reports.
Recommended reading: How to switch your agency project management software
Benefits of one fully integrated project management tool:
Greater efficiency gains with multiple features
A cost-effective solution to using a range of standalone tools
Decrease repetitive admin
Move seamlessly from one feature to the next
Manage your resources, projects, approvals and assets in one system
Faster turnarounds on projects
Greater transparency
Intuitive search function so you can find any project, task or asset seamlessly
Recommended reading: Managing marketing resources with a fully integrated tool