Essential Features of Marketing Workflow Management Software
Let's face it, marketing content approvals can be challenging, especially if your team is working on multiple projects. Compounding the problem is the fact, after a buoyant post Covid-19 market we have moved into tougher times with a recession looming and competition increasing. As a result, marketers constantly need to find innovative ways to reach their audience and make an impact.
Yet, despite more competition, marketing budgets are declining sharply. So, in a sense, marketers are now working harder than before. The thing is, however, they should work smarter. If they can, they'll be more efficient and productive even with the challenges they're facing. To work smarter, though, they need the right tools.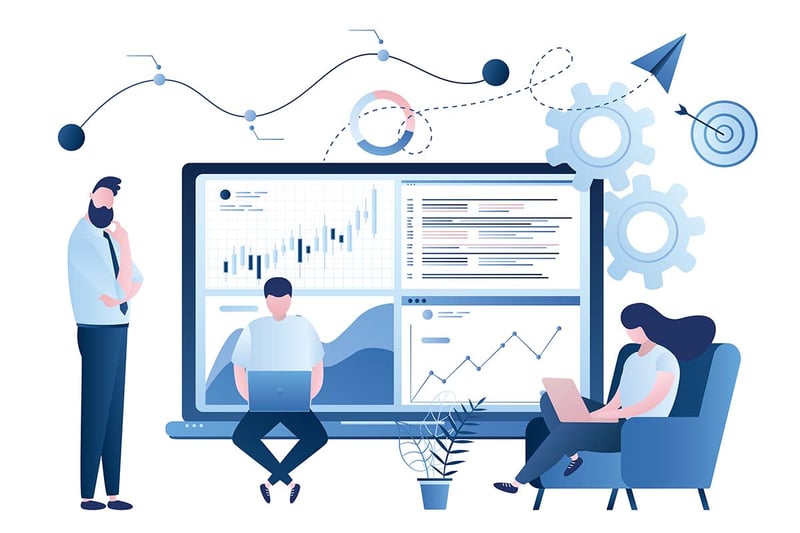 Now, we've relentlessly preached the virtues of marketing workflow management software and, by this time, you?re probably convinced that you need it for your business.
The question is, though, if you want to invest in approval workflow software for your business, what features should you consider? Fortunately, we?re here to help and here we'll deal with some of the must-have features marketing workflow management software should have.
Online Briefing
It's simple, your project brief lays the foundation for the project and sets the tone for all the other steps to follow. This is simply because it allows you to gather all the information you need upfront. In turn, you'll eliminate costly errors, duplication, and you'll spend less time trying to find information you?ve missed. So, if you want your project to be a success, your project briefs should be on point.
The main benefit of using online briefs is that you?re able to create templates which means you'll create briefs faster for similar future projects. As a result, you'll get the information you need quicker, which means you'll save time and increase your efficiency.
Project Overview
Nowadays, it?s crucial that you manage your projects properly and that your team is as efficient and productive as possible, especially if you?re working on several projects. Here, the project overview feature lets you see exactly where every project is. As a result, you can easily see what deliverables need to be completed, who needs to do what and by when.
Approval Lists
Approval lists are crucial for you to manage approvals effectively. They allow you to track approvals and show you where your approvals are at a glance. Also, fixed and tiered approval paths ensure that your deliverables go through the right channels and all approvals before going to market.
With this feature, deliverables will thus be approved by the right people at the right time and you?ll always have peace of mind knowing that crucial approvals won?t be missed.
Batch Approvals
The batch approval feature makes it easy to approve several files quickly and easily. These files are typically quite similar with only minute differences between them. By using the feature, you?ll then see the files lined up next to each other, so you can see the similarities and differences. When you?re happy, you can approve them with just a few clicks.
Checklists
We all like a checklist, right? With this admation feature, you'll love them because they will give you more control over your marketing compliance. Checklists allow your team to triple-check for inconsistencies and errors before any work goes out to market. They enable you to manage the content that needs to be reviewed and approved or the specific steps that need to be completed during the process. Essentially checklists prevent projects and content been approved before the checklists are completed.
It goes further than this, though. They also eliminate unnecessary revisions, reduce confusing and inaccurate feedback, and result in less time wasted with projects being completed with time to spare.
Feedback Request Notifications
Let's face it, feedback drives your projects through the review and approval process. So, if projects are stuck at stakeholders who need to give feedback, it causes delays, missed deadlines, and going over budget.
The request notifications feature eliminates this by sending notifications to stakeholders who need to provide feedback. They can then provide feedback or forward the deliverable to another stakeholder to do it. Either way, the project keeps moving forward.
Forward for Feedback
We mentioned above how important feedback is during the review and approval workflow. With that in mind, it?s understandable why your feedback process should be as efficient and seamless as possible.
Here, the forward for feedback feature is invaluable because it allows you to forward any deliverable to any team member or stakeholder quickly and easily. To make it even easier, you?ll also be able to attach files, add comments, and set deadlines for feedback. This not only keeps your team on track and makes them more efficient but also improves collaboration.
Online Proofing
Something else that makes feedback quicker, easier, and more efficient is the online proofing feature of our approval workflow software. It streamlines your review and approval process by allowing online markup.
So, team members can make changes to files and add comments or feedback which makes it easier to visualize and understand the changes that need to be made. Apart from making your review and approval process more efficient, this feature also enhances your compliance efforts.
Reserve Button
An important part of marketing project management is managing your resources. In other words, your team should not be overworked, underworked, and you should avoid work duplication as far as possible.
Luckily, the Reserve Button feature in our approval workflow software makes this simple to achieve. With it, legal team members can reserve jobs in advance for review or can even reserve jobs for another member to complete if it?s their area of expertise. As a result, your reviews and approvals will be more efficient than ever.
Email Delays
Considering the number of emails your team needs to contend with daily, it makes sense to try and lessen the workload as much as you can. One way to do this is by using the email delays feature of Admation?s approval workflow software.
With it, you?re able to send notifications in batches. This means your team will get 1 email with 5 notifications instead of 5 separate emails. Keep in mind, though, priority emails will always be sent immediately and you?re able to set email delays for anywhere between 5 minutes and 24 hours. Ultimately, this allows your team to focus on completing deliverables rather than being bogged down by tons of emails.
Video Markup
Did you know that, according to HubSpot, video has now overtaken blogs and infographics as the most commonly used form of content marketing? In fact, 87% of marketers now use video as a marketing tool.
The main challenge with video content is its review and approval process. One of the reasons for this is because it?s challenging to give feedback on video files. Luckily, the video markup feature of our online proofing software makes this simple.
It allows you to markup and annotate video files which, in turn, lets your team review and give feedback on videos quicker. It also allows them to give more effective feedback which results in fewer revisions. As a result, you?ll be able to manage more video content to meet the ever-growing demand.
Version Control
Let?s face it, during the course of a project, your team creates a fair number of deliverables. The thing is, if you don?t manage the versions carefully, you?ll soon end up with a confusing mess where no one knows what changes have been made, what feedback was given, or which file is the latest version.
With our version control feature, you?ll stay on top of this and you?ll be able to see exactly what changes were made. It gives you the ability to compare versions side by side while viewing all the comments and feedback. In this way, you?ll reduce revisions and increase your team?s efficiency.
Digital Asset Management
It?s simple, with more projects come more digital assets. It?s therefore vital to properly manage digital assets so that the right versions go to market. Luckily, our marketing approval software?s digital asset management feature simplifies the process.
It gives you the ability to store brand assets and final artwork securely in a single, central place where you can manage and find the right files easily. It also allows you to share assets effortlessly and because it creates an automatic audit trail, it improves your compliance processes.
Automated Reminders
As mentioned earlier, feedback is vital to ensure that your project progresses to completion. Let?s face it, without feedback there?ll be no approvals, and without approvals, there?ll be no completed projects. You?ll just end up with unhappy clients.
The automated reminders feature of our online proofing software lets you send out alerts to team members when their feedback or approvals are due. As a result, your projects will be done on time, within deadlines, and within budget.
Extensive Reporting
When you want to improve your team?s efficiency and performance, you should measure and assess how they perform. Our extensive reporting features make this easier to do.
It allows you to generate reports on, for instance, projects in progress, resourcing expenditure, revision counts, project requests, and more. These reports then give you valuable insights into your team?s performance which, in turn, allow you to implement the necessary strategies to make them more efficient.
Remote Access
By this time, it?s clear, remote working is here to stay. So, for your team to stay effective, they?ll need access to digital assets and should be able to review and approve work no matter where they are.
With our remote access feature, you?re able to do this. It gives you remote access to the features of our marketing approval software, which ensures your team members will be able to be productive whether they work from the office or home.
Hopefully, this post helped illustrate some must-have features marketing approval workflow software should have to give you the benefits of using it. Keep in mind, though, these are not necessarily all the features you should consider or would need. Ultimately, the features you?ll need depend on your business and its specific needs and requirements.
If you?d like to learn more about the features you need or those that Admation offers, why not book a demo today.