Redefine marketing campaigns with marketing project management software
As the number of marketing campaigns increase to satisfy multiple channels, marketers are faced with new challenges. Project management tools and processes that may have worked previously are just not cutting it anymore. Take email approvals for example. Research shows that workers receive 100 emails a day on average. No wonder marketing professionals are struggling to manage multiple campaigns and endless approvals at the same time. This only compounds the problem of not having the right tools to adequately resource projects. Throw a few branding issues into the mix and you've got a cocktail for chaos.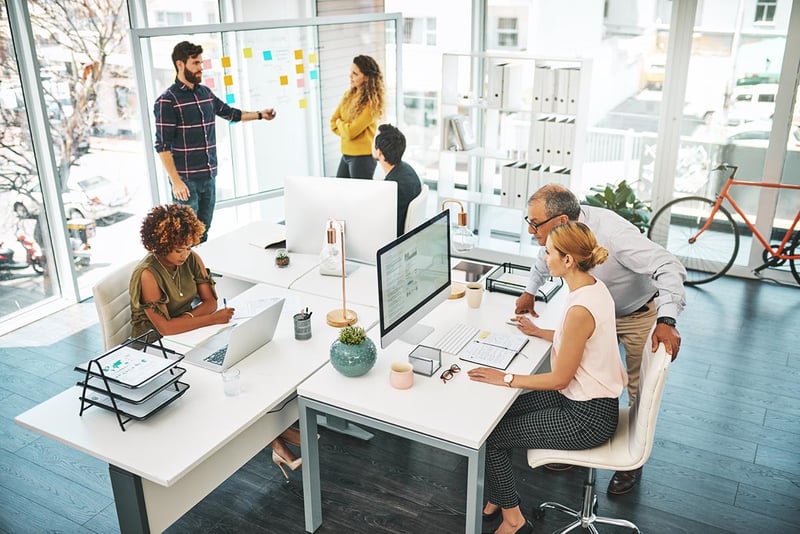 Marketing Project Management software offers new solutions for managing creative projects

Let's take a look at how marketing project management software can meet 3 key challenges delivering greater control and ease over your marketing campaigns.

1. Challenge: Routing multiple campaigns via email approval is time consuming and inefficient

Digital has given rise to new types of content that need to be reviewed and approved, so it's not uncommon to have different stakeholders that approve digital content to, say, print collateral. So not only are marketers dealing with lengthy and often confusing email trails, they also have to manage a range of stakeholder groups. How do you keep track of the right stakeholders, the endless feedback, the current artwork versions?

Solution: Approval templates and workflow management
With marketing project management software, marketers can customise approval pathways to suit their campaign and stakeholder groups. So once an approval pathway has been set up (it can be simple or multi-layered), it can be saved as a template which means you?re just a click away from a ready-made approval process. You can set up a range of pathways to suit all your different campaigns. And no important stakeholders will get bypassed along the way.

Once a project has been set up, all feedback and approvals are managed from one source so you don't have to go back and forth deciphering email trails. Stakeholders also have full visibility over feedback on one screen which means that any conflicting feedback can be sorted before it reaches the creative team. A batch feature enables you to collate and send changes all at once, reducing artwork revisions and saving on your resource power.

2. Challenge: Scheduling resources on spreadsheets is erratic and error-prone
Spreadsheets served a purpose when there were no better tools to plan and schedule resources. But as marketing teams have grown or less resources have to be spread across more projects, the lack of visibility is frustrating. Resourcing for multiple projects at once can be like figuring out a difficult jigsaw puzzle. And just to throw a spanner in the works, there's no easy way to re-assign tasks if someone suddenly calls in sick. If you don't have the right resources to fuel your projects, your deadlines and budgets are at risk.


Solution: Resource management feature
Marketing Project management software with integrated MRM or Marketing Resource Management features enables marketers to streamline their resource management. User-friendly task assignment tools only require a few clicks to match a resource with a task, or drag and drop to reassign a task. If a resource is already booked, the system will alert you to nominate someone else. It will also tell you when your resource is at 100% capacity. Marketers also have full visibility over the resource calendar to understand what?s on the horizon. Instead of updating your spreadsheet for new tasks and saving a different version every time, the system will automatically do this for you.

Recommended reading: Managing marketing projects - why are ancient practices still in place?

3. Challenge: Sometimes the wrong branding gets used on marketing campaigns
You would think saving the most current brand assets to a server is a fairly simple task. But while one person likes to save assets one way (in folders marking the year), another person might just save a different version. You would assume then the latest version is the most current one, until you find a more updated version in a completely different folder. It's the curse of having different people with different admin styles saving assets on a server. So what can you do about it?

Solution: Digital asset management (DAM) solution
An integrated DAM solution will give you complete version control over your assets. The golden rule: only the most current assets and guidelines are saved in the inbuilt DAM and the old ones can remain on the server as a record. The great thing about DAM is that you can do a quick search to locate the assets in just seconds. It's also secure, so only approved users can access your assets.

Recommended reading: 5 integrated modules of admation project management and approval workflow software

Benefits of project management software:

• Decrease your inbox clutter
• Approve multiple campaigns with ease and less errors
• Get the right artwork to the right stakeholders at the right time
• Manage several campaigns at once with full visibility
• Eliminate tedious email and resource scheduling administration
• Reduce artwork revisions and increase productivity
• Schedule tasks and resources quickly and easily
• Avoid double booking resources and underutilising others
• Prevent your resources from being overloaded and burning out
• Access only the most current brand assets in a secure online location
• Hit your deadlines and budgets
• Gain back time for doing creative work

Need further convincing that implementing a Marketing Project Management solution will transform you marketing operations, improve workflows and increase output. Download a 2-page Guide to review the benefits of adopting a marketing project management solution.