Simple's New Website Showcase their Marketing Operations Software
You may recall last year Simple and Admation joined forces to deliver the marketing industry with a comprehensive product suite that helps solve marketings biggest challenges. Our combination technology, people, processes, and insights enables us to offer customers a powerful product suite with exceptional user experience. As such, they can eliminate the cost and complexity of legacy marketing platforms and tap into Simple's marketing management solutions that drive greater efficiencies and improve ROI across their marketing operations.
Simple currently delivers its marketing technology to over 80 clients globally across various industries including compliance driven banking, finance and insurance as well as retail, tourism, education and government.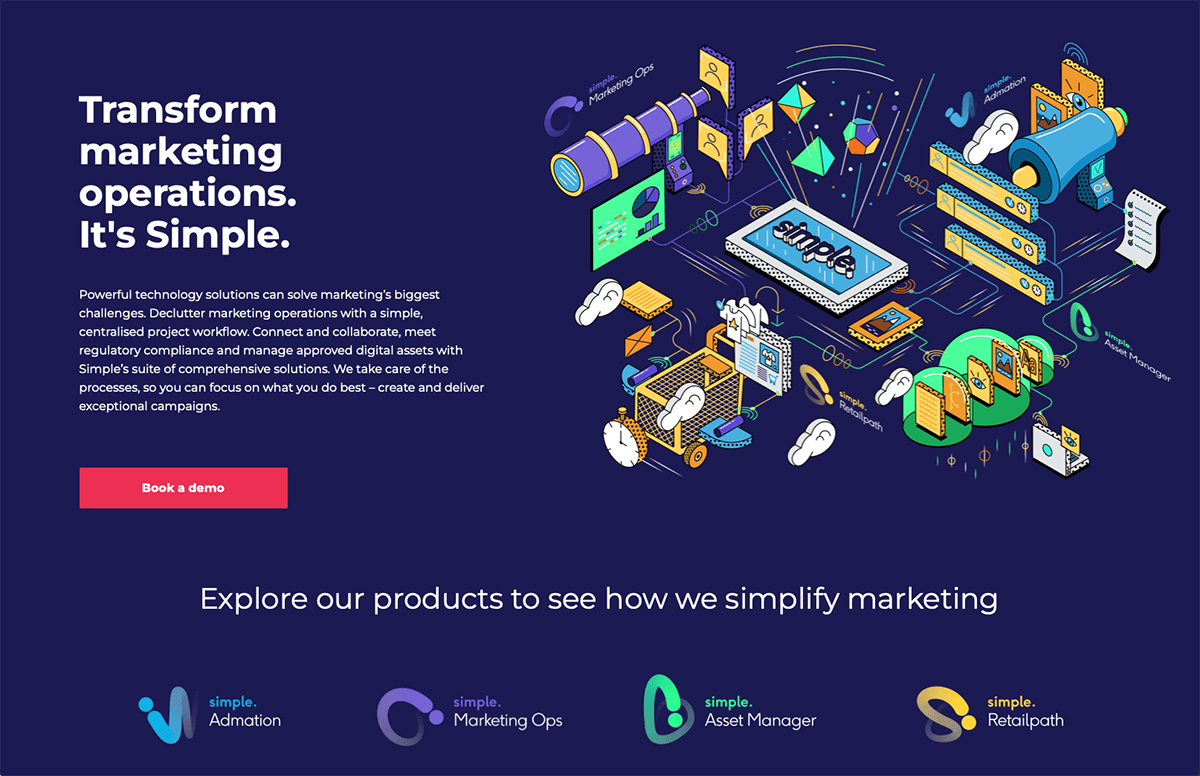 Today, we are super excited to announce the launch of Simple's new website. Our new site reflects the dynamic marketing technology industry, showcases the comprehensive Simple product suite and highlights how our software solves common marketing challenges for different industries and stakeholders.
Visit our new site to discover in-depth information about our four marketing operations solutions including:
Simple Admation
.With Simple Admation, you'll be able to accelerate and streamline the marketing project lifecycle from start to finish. As such, you'll have access to consistent brief building, collaborative asset creation, review and approval management, and effortless digital asset management. Ultimately, Simple Admation allows you to plan and manage your marketing processes better and make them more efficient.
Simple Marketing Ops.
With Simple Marketing Ops, you'll be able to centralize your entire marketing project pipeline in one application. It thus offers pre-defined project workflows, connected collaboration, robust approval processes, and a digital asset manager. The platform allows you to align your processes, monitor progress, and make better data-driven decisions which, ultimately, means more effective and efficient marketing.

Simple Asset Manager.
Simple Asset Manager makes it easy to store, manage, tag, and find assets. This makes it easy to reformat and repurpose digital assets for re-use and ensures that only approved, on-brand assets are launched to market. In addition, Asset Manager gives you valuable insights into what's working and what not. The result is that you can use data to improve your campaigns and extract the most out of your creative brand assets.

Simple Retailpath.
With Simple Retailpath, our powerful Product Information Management (PIM) application, you'll be able to streamline your product information management with in-depth product data, attributes, descriptions, specifications, and the ability to push promotions from a central repository. In addition, the platform integrates with multiple eCommerce platforms. Ultimately, Simple Retailpath is an invaluable tool to improve your eCommerce processes.
To learn more about these products, how they can help you, and how they can solve your challenges to make your marketing processes more efficient, visit our new website now.