The Importance of Marketing Operations in Financial Services
The financial services industry is becoming increasingly competitive by the day with new competitors entering the market with innovative and exciting product and service offerings. For consumers, this is excellent news as it gives them more options and, generally, more competition means lower prices.
For financial services marketing teams, the news is not so good. With ever-increasing competition, they must find new ways to stand out from the crowd and put their products or services in front of the right consumers at the right time. And they have to do all this in an industry that is tightly regulated and not exactly known for the level of consumer trust it garners.

Yet, despite this, financial services marketing teams must overcome these challenges to be successful. So, with that in mind, let's look at some of these challenges in more detail and how marketing operations software can help teams face them.
Challenge 1: Increased Competition

As mentioned above, one of the main challenges marketing teams face is increased competition. This is simply because technology not only allows financial services businesses to be more efficient and productive, but also allows many to develop new products that create more competition. As a result, it's challenging, yet vital, for businesses to differentiate themselves from their competitors.

Here, a marketing operations platform promises to be an excellent solution to this problem. Because it allows you to implement better frameworks, processes, and tools to help you plan and review your marketing efforts, it helps you build a stronger brand identity. It also ensures more efficiency which means you can produce more content in less time.

Ultimately, the platform allows you to increase your presence, differentiate yourself from your competition, and build brand loyalty.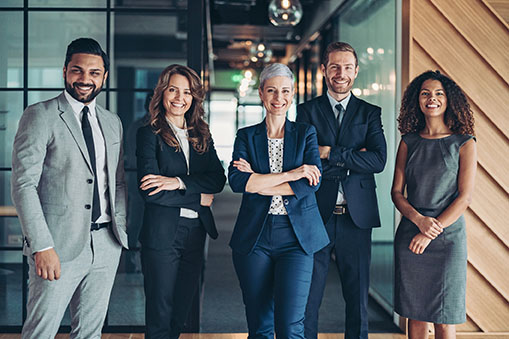 Challenge 2: Lack of Consumer Trust

In recent years, financial service providers haven't exactly been high on consumers' lists of businesses they trust. In fact, according to a 2106 survey, only 8% of consumers said they had faith in their financial institutions while, according to Accenture's Purpose-Driven banking study, only 43% of consumers trust their bank to look after their financial well-being.
So, how can marketing teams overcome this? The key lies in building positive relationships with consumers which, in turn, leads to increased trust and loyalty. To do this, you need to focus on delivering personalised, consistent communications and content to the right consumers at the right time.
This allows you to show consumers you care about them and establish yourself as a trusted partner they will turn to when they need advice and will rely on when they need to make the right decisions.
Sure, you'll need to produce more content to satisfy consumers' demand for relevant and valuable, multi-channel information, but this is where a marketing operations platform is invaluable. It allows you to streamline the production of this content which, in turn, means you can do more for less, increase your productivity, and drive more revenue.
Read Next: How Simple Helps Customers Create Seamless Customer Experiences

Challenge 3: Marketing Risk and Compliance Changes
It's no secret that the financial services industry is one of the most tightly regulated industries globally. There is, typically, a raft of regulations and pieces of legislation businesses should comply with. As a result, there are rules on what marketing and other promotional materials may or may not contain. Also, in the case of non-compliance, the penalties could be severe.
Considering the above, it's perfectly understandable why you should implement the necessary processes and strategies to ensure compliance. Here, a marketing operations platform is the perfect tool to do this.
With it, you're able to automate your compliance processes, which not only allows you to improve your efficiency but also gives your marketing team and leadership the assurance that no project will get to market without the appropriate approvals.
In addition, it gives you the ability to develop clear frameworks and use approval templates that empower everyone on your team to follow the right processes and deliver compliant work.
Download now: 10 Steps to Mastering Marketing Compliance
Challenge 4: Big Data and Consumer Analytics Challenges

The advent and popularity of big data, data analytics and artificial intelligence has opened the door for businesses to market better, serve their customers better, and generate more revenue. However, to take advantage of these benefits, businesses need the right tools that allow them to turn their data into valuable, actionable insights.
So, for example, businesses typically use a variety of applications and platforms and gather vast amounts of marketing data. As a result, this data comes from often disparate sources and is in a variety of formats. Without the right tools, these businesses will simply not be able to gain valuable insights from this data.
Fortunately, a marketing operations platform allows you to overcome this challenge with siloed data. It allows you to pull operational, performance, and financial metrics from across all your marketing operations into central dashboards. These dashboards then serve as a single source of truth from where you can get actionable insights into your marketing strategies and efforts.
In simple terms, it allows you to see what's working and what's not. In turn, this allows you to improve your marketing efforts, make your teams more efficient and productive, and improve your return on investment on your marketing spend.
Challenge 5: Brand Consistency
In a sense related to the data siloes described above, financial services marketing departments, often due to regulations and compliance concerns, exist in siloes and are simply unable to share data with other departments.
This creates a significant challenge for these businesses to ensure brand consistency. One way in which marketing operations software can solve this problem is by allowing you to create a consistent marketing workflow that incorporates brand guidelines. It's simple, when you have this consistency, you increase your governance and have more control over what material goes out.
You could also consider implementing brand templates that can be customized depending on the specific requirements of a project or even having more comprehensive approval workflows that can help you identify and stop any off-brand materials before it reaches the market.
Download now: Brand Automation Means Anyone Can Do Amazing Marketing
The Bottom Line
As the financial services industry becomes more competitive, it becomes more challenging to effectively market these businesses and their products. Simply put, in a crowded marketplace, it's more difficult to stand out from the crowd.
As a result, financial services marketing teams face several challenges that they need to overcome to be successful. Fortunately, marketing operations software could allow them to do this. It enables them to forego traditional, outdated manual processes and take advantage of modern technologies like big data, AI, and complex data analysis to be more efficient and productive.
To learn more about the Simple Marketing Operations Cloud, its features, and how it can help your financial services marketing team, visit our website for more detail or book a discovery with a member of our team.