5 Ways to Measure the Effectiveness of your Approval Workflow
The ability to track your approval workflow means that you can accurately measure whether your teams are working efficiently or not. Here?s five ways that you can track and measure the effectiveness of your marketing approval workflow.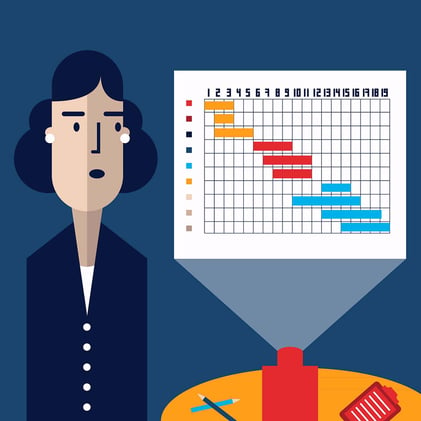 1. Deadlines
If you?re not hitting your deadlines, then this is a sure indication that your approval workflow is falling over. But exactly where does the problem lie?
In order to weed out the problem, you need to track your creative projects from briefing through to artwork completion to launching the campaign. While you can track approval workflow manually, this can be a timely exercise. Approval workflow software, on the other hand, provides an online central hub that automatically saves and tracks all project files and artwork. This way, you have transparency over the entirety of your project and fix bottlenecks when they occur.
2. Number of Revisions
Observing revision counts on artwork is an easy way to determine how effective your approval workflow is. If a revision count is high and, therefore, likely to be stalling your project then something is out of kilter. Make sure you stay on top of the number of artwork revisions for every project so that any issues can be remedied sooner rather than later. An approval workflow software that allows users to run daily and weekly revision reports is a really simple way to monitor this part of the approval workflow.
3. Stakeholder Feedback
A robust and straight forward feedback system will oil your approval workflow, but how do you know whether you have an effective system? Make sure that your teams chart when feedback is requested, received and a new artwork version is created. This way you can ascertain if stakeholders are taking too long to send their feedback or if feedback is going back and forth because it can?t be easily deciphered. Online proofing software can do all this for you as it tracks all feedback and versions so that, at the click of button, you can see where the job is at. It also allows users to make digital mark ups to all types of files so that feedback is always clear and concise.
4. Managing Resources
Resource management is key to having the right people on the right projects at the right time. Your resources need to managed diligently so that you are utilising the capacity of your creative resources, and not having to bring in freelancers or implement overtime. You can do this by creating and manually updating spreadsheets, or by utilising resource management software. Resource management software allows users to review and report on resources as well as assign tasks to staff, view what people are working each day and reassign tasks from one staff member to another. Resource management software gives you the transparency and control to effectively managing your creative projects.
5. Marketing Compliance
Sometimes it?s difficult to know whether you?re meeting your compliance requirements until something goes to market that shouldn?t have gone out into the public domain. Always ensure that your Compliance or Legal team checks off all artwork at the right stage in the approval workflow to meet the requirements. An approval workflow software with tiered approval pathways is a really safe bet that Compliance will never be overlooked in the approval workflow.

Measuring the effectiveness of you marketing workflow can be a real challenge if you are not using the right tools to manage your workflow. If you are still relying on spreadsheets, emails and manual processes, then perhaps it is time to consider project and approval management software for your business.
If you need some help determining if your team is ready to implement a project management solution, then download this Checklist to get started.