Which Software is Right for me? Understanding Marketing Software Categories.
The role of the marketer has evolved over time to keep up with technological advancements and business demands. Today, not only do you have to be a jack of all trades, you also have to be a master of one pulling together a range of media streams and marketing management strategies to achieve one crucial objective: ROI for your business. It's comes as no surprise then that marketers today are turning to technology tools to help automate and streamline many aspects of their role.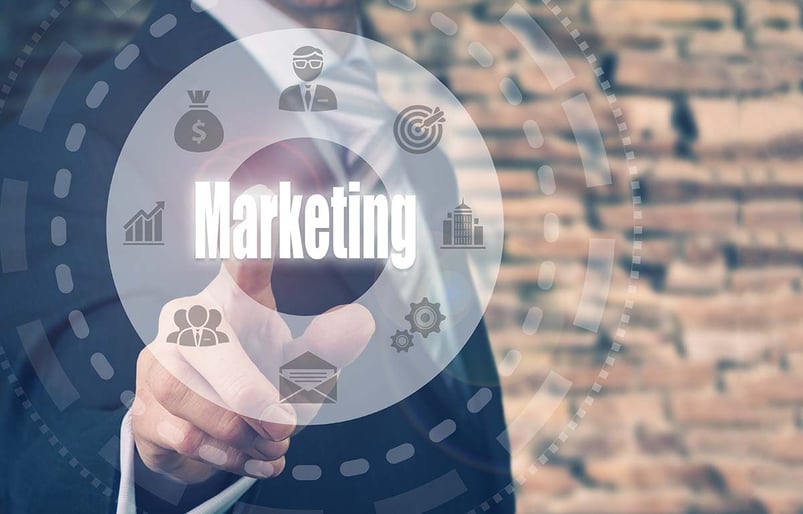 If you're not familiar with 'marketing technology stack', then you soon will be. It's the term used to describe the array of digital marketing tools a business implements to execute and track marketing campaigns more effectively. For example, a business might use a tool for marketing automation, another for managing creative projects and approval workflow, another for website content management, and so on.
To understand the demand for these types of marketing tools, you only have to look at the exponential growth in vendors over the past six years. Recently, chiefmartec.com released an infographic highlighting nearly 5,000 digital marketing tools available today, an massive leap from just 150 back in 2011.
Why less is more
With innumerable categories and product offerings, buyers could be forgiven for being a little confused, especially given that features may well overlap across different tools. Unfortunately, some marketers are finding themselves in the position of adopting multiple versions of the same tool, which becomes a wasteful and costly exercise.
'Almost half of companies are using more than one marketing automation system, with 24 percent using two, 12 percent using three, and smaller percentages using even more.' Venture Beat Survey.
More concerning than this daily juggling act is the perception that limiting the number of tools used is not a priority, at least according to 43% of the marketers who responded to the survey. So how do marketers select the right kind of marketing tools for their business without falling into the trap of implementing unnecessary technology?
Before your brand travels down the costly road of implementing any kind of digital marketing tool, you first need to understand exactly what it does and how it can solve your specific marketing challenges. As the marketplace for solutions is all encompassing, we've selected just a few categories and their associated software to demonstrate how they can address some of your issues.
The Software Rundown
S

ales and Marketing Software
Marketing Automation Software
1. What is marketing automation software?
Marketing automation software is often confused with email marketing software, however there are some major differences between the two tools. Primarily, email marketing software focusses on planning and tracking email campaigns. Marketing automation software, on the other hand, provides a comprehensive overview of the consumer journey at every digital touchpoint so that marketers can tailor a unique response. So, for example, instead of sending an untargeted email blast, users can ?nurture? a response from consumers, from downloading a white paper to then responding to a personalised email with a further prompt, and so on. Brands usually opt for marketing automation software over email marketing software when their needs are more complex.
Who would use this tool?
Depending on the size of the business (B2B or B2C), it could be anyone from a business owner to a marketing manager or their team.
Features of marketing automation software
Centralised platform: enables you to oversee the entirety of marketing efforts from email to website activity to social media.

Targeted email campaigns: not to be confused with email marketing software, this solution can send targeted messages in a timely sequence.

Lead nurturing: once you've invested time in nurturing leads and creating automated campaigns, the software will do the work for you.

Tracking features: captures the entire sales journey from first contact through to sales.

Lead scoring: the software can rank your leads from interested, to buying, to just perusing.

Integrated CRM capability: helps you to determine what marketing activities are impacting ROI.
What marketing challenges could be solved by using this kind of tool?
Now that you have an understanding of what marketing automation software does, it's time to list some of the marketing challenges that could be solved by implementing this kind of tool. Use marketing automation software if:
You're marketing on mass because you can?t tailor campaigns to individual consumers.

You're creating marketing campaigns using guesswork because you have no visibility over consumer behaviour and engagement.

You have no transparency over your marketing data, which means leads drop off and you don't understand why.

You can't qualify leads to your sales team.

You can't prove ROI to your managers.

You're marketing activities are all over the place and not saved in one central location.

You're juggling three tools to manage email campaigns, nurture sales leads and analyse marketing activities.
How marketing automation software can solve these marketing challenges
Offer full visibility over the consumer journey, meaning you can tailor your marketing activities to suit buyers at different stages of the purchasing process.

Create and track marketing strategies that work for you instead of relying on guesswork.

Understand who your best prospects are to convert leads into sales.

Isolate how and where the money is being made to concentrate more efforts in these areas and deliver ROI.

Eliminate random, untargeted campaigns that are not delivering money to your brand.

Eliminate tedious administrative tasks and follow ups.

Increase customer loyalty with a tailored consumer journey.
Marketing Planning Software
1. What is marketing planning software?
Marketing planning software is used by Australian and international brands to plan, execute and track marketing strategies. It also offers a central hub from which stakeholders can provide transparent feedback and ideas on campaigns which don't get lost in the usual email clutter. The tool can help nurture creativity by providing a space to chart ideas and sources of inspiration. The software is also called marketing and calendar planning software, marketing management software or marketing plan software.
2. Who would use this tool?
Think business owners and staff, and marketing managers and their team.
3. Features of marketing planning software
Marketing planner: plan your marketing activities in an easy-to-use wizard tool which enables you to define your objectives and audience, and offers tips along the way.

Customised Branding: design your marketing plan so that it's aligned with your branding.

Project tracking: visual roadmaps enable you to stay abreast of your marketing campaigns to review their effectiveness in just seconds.

Budgeting and forecasting: review past campaigns to better budget and forecast for future marketing activities.

Ideas hub: chart ideas and resources to provide you with inspiration for current and future projects.

Collaboration: users can provide ideas and feedback throughout a campaign's journey which are visible to everyone.

*This tool might also offer an integrated marketing asset management and/or approval workflow feature (see below for these standalone tools).
4. What marketing challenges could be solved by using this kind of tool?
Your marketing strategy is ad hoc and you feel like you're working reactively instead of proactively.

Your marketing plan is charted on a spreadsheet that cannot provide real-time tracking.


You are bursting with great marketing ideas, but they're spread out all over the place: on loose pieces of paper, in a document on the server, and some are still swirling around in your mind.

Stakeholders provide feedback on campaigns but you often have to trudge through emails to locate it.

Too much time is wasted on updating your marketing plan on a spreadsheet after the fact.

Your spreadsheets are full of errors which puts your campaigns at risk.

You can't demonstrate ROI on your marketing activities.

In meetings, your marketing plan looks unprofessional and lacks transparency.
How marketing planning software can solve these marketing challenges
Provide more structure for planning your marketing activities as well as peace of mind for you.

Provide a live marketing plan that enables users to see how campaigns are tracking in just seconds.

All marketing activity and feedback is captured in one central hub, which eliminates the need to jump from one tool to the next.

Dispense with having to continually update your marketing plan after the fact.

Decrease the chance of errors in your marketing work.

Retain and build on creative inspiration for your marketing campaigns.

Finally demonstrate ROI on your marketing activities.

Better forecast and budget for future campaigns.
Project Management/ Workflow/ Delivery Software
Marketing Project Management Software
1. What is marketing project management software?
While some marketers in Australia and beyond are slogging away with spreadsheets to plan and track the production cycle of their creative projects, others are turning to marketing project management software. Imagine a single tool that helps you to manage the entire production process from project briefing and set up to approving artwork to saving final assets. Well that's exactly what this tool does. Project and task management is high on the agenda as well as the solution may offer other integrated features like resource management, reporting tools and DAM. As the software can be accessed online, it fosters greater collaboration between marketers and stakeholders, even remote workers.
2. Who would use this tool?
While this tool would typically be sought out by a marketer, a comprehensive marketing project management tool has many touchpoints. Other stakeholders that might use this tool include accounts and sales, legal, management and creative teams (inhouse or agency-based).
3. Features of marketing project management software
Project management: brief requirements and set up projects, plan and allocate tasks, and track projects from start to finish.

Resource management: plan and track marketing resources with full visibility over your projects and tasks on the go.

Approval workflow: set unique pathways to suit your business that ensures every stakeholder provides feedback and approval on marketing content and collateral.

Document templates: have your templates for common marketing documents ready to go at the click of a button.

Integrated DAM: save final artwork and marketing assets in a secure digital library which can be located and shared within just seconds.

Reporting tools: generate a WIP report for your weekly marketing meeting in a couple of clicks.

Central hub: all files, feedback, approval and assets are saved in one online location which provides an automatic audit trail of work.
What marketing challenges could be solved by using this kind of tool?
You can't find out how projects are tracking or who's working on what quickly and easily.

Projects are never briefed properly so you spend more time than you have chasing up information.

Feedback and approvals get lost in the clutter of emails.

Stakeholders keep getting missed in the approval process and your marketing compliance is at risk.

You keep losing final, approved assets or spend hours looking for them.

Someone calls in sick and you can't find a replacement resource because you have no visibility over what your team is working on.

Your revision counts are always high and deadlines are often missed.

The quality of marketing output has decreased because you're finding it hard to keep up with juggling multiple projects at the one time.

It's difficult to forecast budgets and resources for future projects.
How implementing marketing project management software can solve these marketing project management challenges
Offer greater visibility over creative projects and resources with visual display of all work in progress.

Eliminate tedious and repetitive marketing tasks such as briefing projects, allocating resources, and chasing feedback and approvals.

Avoid high pressure workloads by providing visibility over scheduled work and monitors capacities.

Have greater control over deadlines and budgets as well as quality of output.

Stay on top of marketing compliance with an automatic audit trail of work and a failsafe approval process.

Locate and share final, approved assets quickly and easily.

Remote stakeholders can login and provide feedback and approvals from anywhere at any time (internet connection granted).

Generate a WIP report in just seconds with reporting tools.
Recommended reading: Selecting the right project management software
Marketing Resource Management Software
1. What is marketing resource management software?
Marketing resource management software enables marketers to plan and track their resources more effectively by providing an organised framework from which to assign and monitor project tasks. With online timesheets, this tool also enables marketing managers to better assess budgets and resources for upcoming projects. This solution finally gives marketing teams the peace of mind that comes with being able to see what tasks have been allocated to them on a weekly, fortnightly and monthly basis.
Who would use this tool?
Typically a marketing manager would use this resource management tool to assign tasks to other team members. Still team members would also use the tool to have visibility over tasks assigned to them as well as log in to use the online timesheet tool to give managers an accurate reading of how long tasks take to complete.
Features of marketing resource management software
Resource planner: allocate tasks to resources for every creative project on the go.

Resource overview: provides a visual graph of all resources and their current workload to ensure everyone knows what they're working on.

Online timesheets: resources can log the exact time they spend working on each task.

Re-assignment feature: if someone calls in sick, you can reassign a task in just seconds with a simple drop-and-drag feature.

Document templates: create a template of resources and tasks you commonly use for the next project.

Collaboration: stakeholders can log in to the tool to see what marketing resources are like before booking work.

Reporting tools: generate a report which provides an overview of task allocations.
What marketing challenges could be solved by using this kind of tool?
With a lack of visibility over your resources, a number of marketing challenges abound, consider this software if:
It takes at least half an hour to trawl through a spreadsheet to understand your resource allocation.

You can't effectively plan and resource marketing projects.

Your resources are always overloaded (and tired and negative).

You're relying too heavily on freelancers to bring projects in on deadline.

You often miss deadlines on marketing projects.

The sight of an email stating 'Urgent Project' sends you into a meltdown.

You're going over budget more often than not.
How marketing resource management software can solve these marketing challenges
Offer greater visibility over marketing resources with a visual graph of resources with assigned tasks.

Less stress for resources as they can see what work is scheduled ahead of time.

Managers can better schedule resources and budget for future projects because the online timesheet feature has accurately captured time expenditure.

Eliminate repetitive marketing administration such as continually updating spreadsheets to reflect day to day task allocations.

Re-assign tasks in just a few steps instead of having to refer to spreadsheets or call around to find out what capacity your resources have.

Managers will experience more ease knowing that projects are adequately resources.

Eliminate a reliance on freelancers who are called in when projects haven't been properly resourced.
Digital Asset Management (DAM) Software
What is digital asset management software?
DAM software can be an integrated feature of another more comprehensive tool such as project management software, but it can also be offered as a standalone tool. Essentially, it's an online digital library that enables marketing teams to save final artwork or marketing assets (like logos and guidelines) in a secure, central location.
Who would use this tool?
Marketers or inhouse studio staff such as designers would use a DAM tool.
Features of DAM software
Secure storage: digital assets cannot be lost or deleted, and only approved users can access DAM.

Custom meta data: users can easily locate and manage digital assets

Search and download function: you can locate files in just seconds

File sharing: users can share files with both internal stakeholders and external stakeholders

Inbuilt image transcoder: this converts image types wherever needed
What marketing challenges could be solved by using this kind of tool?
Marketing assets are often difficult to locate because they've been saved across different folders on the server.

Old branding logos and guidelines are being used instead of the most current versions.

It's a nightmare if you need to re-run a campaign because no one knows which is the final, approved artwork version.

Marketing compliance is at risk yet again because the wrong version went to market.
How DAM software can solve these marketing challenges
Never misplace or lose your marketing assets ever again.

Locate assets in just seconds.

Only approved and current assets are saved in DAM so there can be no confusion about versions.

Share assets easily and readily with stakeholders anywhere.

Rest assured that one aspect of your marketing compliance is checked off.

Re-run a campaign with less chaos.

Sleep better at night.
To be an effective marketer today, it's critical that you take the time to understand your unique requirements and find the right digital marketing tools that enhance your operations. Otherwise you risk spending time and money on solutions that simply clutter your already busy workday.