Why Online Proofing Software is Essential for Your Marketing Team
No matter how busy you get in the marketing game, everything needs to be checked over for quality assurance and accuracy. It is totally essential to proof every asset in your campaign, as errors can prove to be extremely costly.
Not only do you stand to lose clients if their campaign has errors in it, but your brand can be damaged to the point of no return and in some cases, you could be liable for legal action if errors are defamatory.
So running a fresh set of eyes on all facets of your project is essential to make sure that everything is spot on. Unfortunately, two things that run in short supply in marketing companies are time and resources.
That shouldn't mean that proofing should be put on the backburner though, and there are solutions that can make the process simpler, streamlined, and ultimately more accurate. Online proofing software has come ahead in leaps and bounds in recent years and we will show you why it is a tool you cannot do without.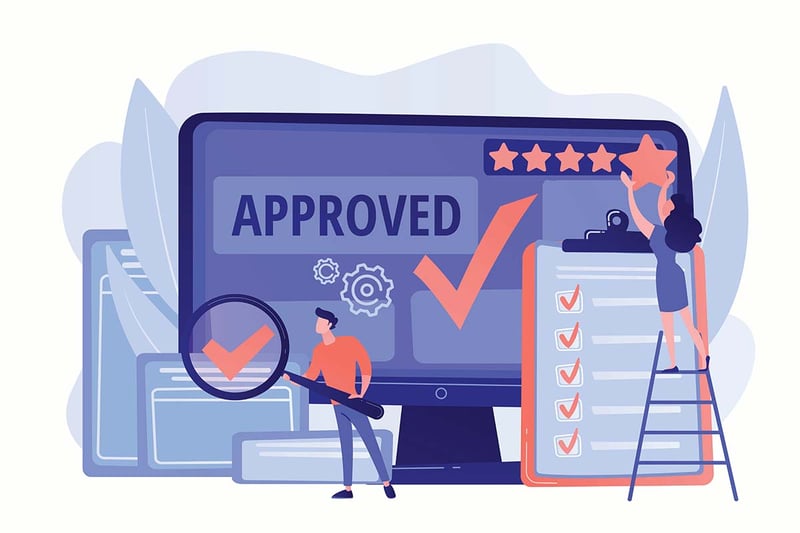 Why online proofing software is essential for your marketing team
There are several reasons why online proofing solutions are vital in the modern world. Firstly, the days of print-based marketing campaigns are well behind us. Campaigns are digital, online, flying through cyberspace, and in the cloud. And secondly, marketing compliance is much more complex and the consequences for non-compliance are much more severe.
The very digital channels that we use for our marketing campaigns can also be our worst enemy, as any errors or brand-related damage will spread like wildfire and your brand could be tarnished much quicker and more widespread than it would have in the past with printed campaigns.
Typically there are also many more stakeholders involved in the marketing process and approval process which means more stops along the journey that can cause delays - in an era where our deadlines have never been tighter. It is not uncommon for these stakeholders to be working remotely or in different locations instead of operating in the same room as they once may have.
To put it simply, old editing methods aren't as effective as more advanced, integrated and modern workflows.
We cannot simply put the assets and products on a desk for all stakeholders to run their eyes over. We cannot assume we know all of the legalities that we need to comply with. And we do not have the time to manually look over every step of the marketing process.
But proofing through digital channels can be dangerous as well. Emails can be missed, collaboration software can miss vital steps in the approval process, stakeholders can be accidentally bypassed, legal processes can slip through the cracks.
Online proofing software is a complete package that allows you to review, approve, and confirm all of your marketing assets and campaigns in a seamless, automated process. It creates a workflow process where every stakeholder is required to proof and approve before the work can move through the chain.
These kinds of solutions also come with a range of other benefits as well. It helps limit revisions on artwork and other assets, you have total transparency over the entire project even when stakeholders are around the world, you can control what parts of the project are visible to certain stakeholders, you can stick to budget far more easily and effectively and your overall business operations will become more efficient.
In the modern age of marketing, having online proofing software is more than just a competitive edge, it is an absolutely essential tool for any brand or marketing agency.
Evaluating online proofing software and finding the right option for you
If you are not already using resources like this, now is the time to start looking into acquiring it and putting it to work in your marketing operations. But where do you start? Which software has the best options and features for you?
It's important to not put the cart before the horse, though, as there are some important steps to take before you start seeking out the right software that matches your needs. Here is what you need to do before choosing a solution like this for your needs:
1. Write down a detailed approval workflow process



Every marketing operation has its own unique approval process and you need to have yours outlined in detail so you can align it with your online proofing software. Ensure that you outline:
The briefing process in its entirety

Every manager of projects and resources

Every stakeholder that requires feedback during the process

How this feedback is compiled and issued to the right department

How many artwork revisions you are currently doing on average

How final approvals are received
2. Identify all of the creative content that you produce
This is another highly variable part of the marketing process. Every marketing company will create different creative content and you need to ensure that your proofing software is going to be compatible with all of the different file types that you are working with. Be very specific with this process, outlining the exact creative content produced, the software use, the file types used - every single element of the process.
3. Assess all of your current software



Work with your IT team to ascertain how your existing software is going to behave when integrated with online proofing software. This will help avoid any unnecessary complications when the time comes to integrate.
4. Scale your cloud storage
As you are going to house all of your assets in a single platform, your storage is likely going to need to be upscaled as well. Speak to your cloud service provider about scaling up to accommodate all of this extra data in the cloud.
5. Prepare for implementation and integration
This process often has issues so you need to be as best prepared as possible. Having a training system mapped out, have user guides handy, have ongoing support available, and ensure you have your IT professional ready for this process.
6. Outline your budget expectations
You are expecting online proofing software to deliver efficiencies, reduce revisions, and deliver faster turnarounds. Map our your expectations and the cost of the software and ensure that it all comes under budget.
Why you should integrate Digital Asset Management (DAM) with your online proofing software
Digital Asset Management (DAM) is an independent software from online proofing, but integrates smoothly with it to provide additional benefits for marketing companies.
DAM is a digital repository where users are able to save and view approved and final assets which means you have a separate place to store these final assets and know when projects are complete.
Here are the benefits of integrating DAM with online proofing software:
1. You don't need to switch between systems
This isn't the addition of yet another software platform, it will integrate with your online proofing software so that these final assets will automatically be saved into your DAM. You don't have to switch tools, but it gives a good level of separation between your working content and your final, approved projects.
2. Clear vision of finalised products
All stakeholders will have a central, unified platform where they can view finalised projects.
3. Easy location of assets

Not only are all stakeholders able to easily access completed projects in their entirety, but they can easily locate individual assets as well. All of the metadata for these individual assets are stored in the DAM so you can find them quickly, which is very helpful for repeat or similar projects so you can grab the assets you need.
4. Share these assets with ease

Tools like this give you the capability to share artwork with stakeholders, but DAM gives you the power to share individual assets as well. This means stakeholders have access to these assets at any time, from any location
5. It streamlines the approval process

A DAM provides the necessary, final platform for your completed projects and assets which further improves your workflow and approvals. Your online proofing software will allow you to quickly move through revisions and tick-offs, ensuring all are done quickly and efficiently and your DAM is the final carriage on the train where finalised projects and assets will be automatically moved to. These projects and assets are then available to view and share by all stakeholders.
It may sound daunting initially to add more software to your already hectic suite of apps and platforms that you are using in the modern era, but online proofing software is an essential part of your marketing operations and should never be overlooked.
It is about more than just ensuring everything is looked over and error-free, it helps with legal compliance, it streamlines your operations and it provides a central platform for all stakeholders who are likely based in different geographical locations.
And with the addition of a DAM, you can have an end-to-end approval and review process that will enhance your operations and give you the scope to take on more projects.